According to the Content Marketing Institute, 87% of B2B marketers say email marketing is one of their top free organic distribution channels. Furthermore, for B2C, 80% of business professionals believe that email marketing increases customer retention.
Are you still wondering what email marketing can do for your business? Welcome to Email Marketing 101. Here, you will learn all you need to know about email marketing.
You will also learn how to create winning email marketing strategies and best practices. So, grab your surf gear and let's dive right in!
Email Marketing 101 – Learn more about:
What is Email Marketing?
Email marketing is a digital marketing strategy that helps businesses reach, engage, and develop a strong relationship with prospects and customers. You already guess that it is a strategy based on sending out emails.
Therefore, the reach, engagement and a lasting relationship are achieved fundamentally via emails. However, as we will see, great email marketing goes beyond just sending emails. If not done right, it can be counterproductive.
When your email marketing campaigns are successful, you can quickly turn your prospects into customers. You can also influence buying decisions and recurring purchases. The first email was sent in 1971; today, there are 3.9 billion daily email users.
(Read also: 10 Email Marketing Trends for 2020)
Why is Email Marketing Important
As of 2019, more than half of the world's population uses email (Radicati Group, 2019). This number is expected to hit over 4 billion by 2023. Emails have become an essential part of our lives. Most important information, from professional and academic to medical and lifestyle, are received via emails.
Email marketing is only a part of your entire digital marketing strategy, but it offers benefits other marketing tactics don't. Email marketing gives your business the advantage of reaching a dynamic market. You can reach a large group of people, no matter the size of your business or what your target audience looks like.
In fact, small businesses can compete with large-scale enterprises with an effective email marketing strategy. Marketing automation with relevant email marketing tools makes this possible.
The number of smartphone users worldwide today surpasses three billion and is forecast to further grow by several hundred million in the next few years (Statista, 2020).
Mobile marketing is increasingly becoming a stronghold in digital marketing. Email marketing can easily fit into mobile marketing strategies since emails are mostly received on mobile devices.
Types of email marketing
There are nine types of emails that you can use in your marketing campaign. You can use them individually or collectively depending on your email marketing strategy.
1. The Welcome email
Welcome emails have an average open rate of 82% (learn more about email marketing open rate). Therefore, they are very important in email marketing. This is how you "introduce" yourself when a new subscriber or customer comes onboard.
This is one email marketing type every business must make use of. You get to interact with your subscribers, invite them to your social media, get to know, or tell them about a promo. Welcome emails are the first step to building a lasting relationship.
2. Educational email
This type of email is targeted at educating the recipient. It should provide answers based on a customer's needs. With educational emails, you can share content that are tailored to the customer's interests.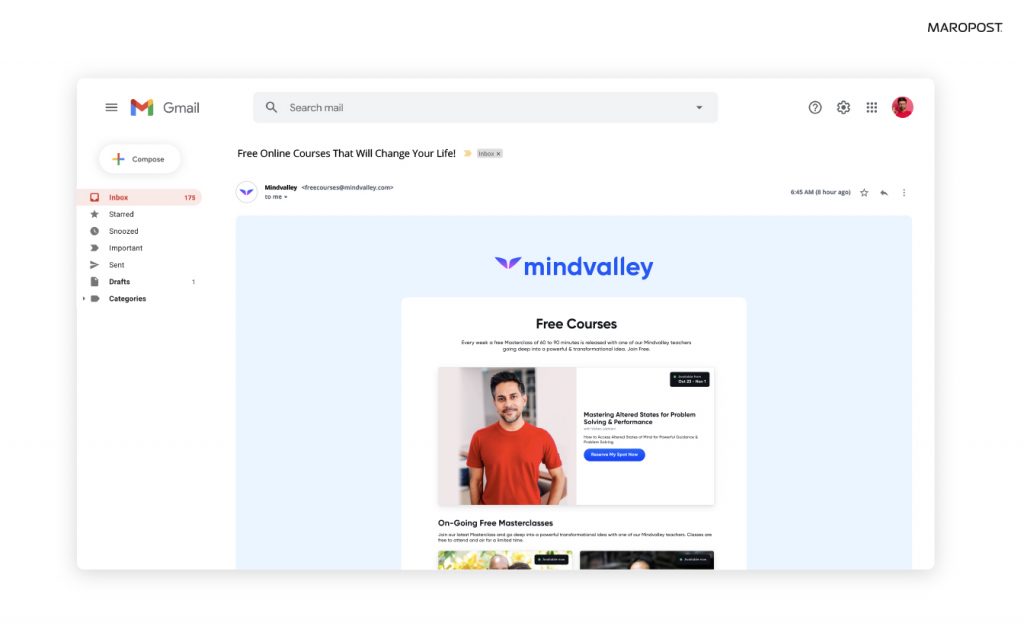 3. Promotional email
Just like educational emails, promotional emails should be tailored to the needs of your subscribers. With promotional emails, you can announce a seasonal sale, give out coupons or unique offers.
4. Triggered / Transactional email
Transactional emails are triggered events that are sent to inform a subscriber that a business deal has been completed. Transactional emails are a type of triggered emails. Triggered emails will include any action by subscribers on your website that can prompt sending an email. Request for a forgotten password is a good of example.
5. The Newsletter
With email newsletters, you keep a regular communication channel between you and your list open. It's not promotional but can be educational. It can also be entertaining, a weekly digest for instance, or product updates.
6. Lead nurturing email
This type of email helps to convert prospects into customers. You can use triggered emails to provide more information based on the activity of a prospect on your website. Information tailored to the need of a prospect can drive transactional actions.
7. Abandoned cart email
Specifically for online stores. You can also send triggered emails based on customers abandoning items in their online cart. Offering an incentive can drive your customers to take actions.
8. Cross-sell email
Inform customers about similar products based on their purchase history. For instance, they might be interested in getting kitten accessories and supplies if they recently just got a cat from your store.
9. Re-engagement email
Email churn rate is about 25-30% per year. Different factors are responsible for this, including change of email addresses. You can launch a re-engagement campaign to get subscribers back and also to cleanse your list of inactive email addresses.
What about automated emails?
Automated emails are carefully planned emails sent to subscribers based on specific actions or as a response to a particular need and in a particular time. All the types of emails we have discussed can be automated with the right email marketing tool.
Email Marketing Metrics and KPIs
KPIs (Key Performance Indicators) help you measure the performance of your email marketing campaign. In measuring, you need to know what parameters or metrics you should be looking out for. There are 10 essential metrics and KPIs you need to be measuring.
Here are 10 email marketing metrics and KPIs:
Number of Emails delivered
Number of Emails opened
Click-through rate (CTR)
Click-to-open rate
Unsubscribe rate
Bounce rate (hard and soft)
Spam complaints
Social shares
Forwards, and
Conversion (this is the most important KPI).
Email Marketing ROI
The KPI that matters the most is the "conversions", as mentioned earlier. This is where your ROI (Returns on Investment) comes in. Every business, big or small, wants to know its net profit against the spend, on any marketing channel. ROI tells you if you are gaining or losing.
Email marketing effectively and strategically done can give you an average of $38:$1 net profit to spend. That is, $38 for every $1 spent. That's most definitely an impressive ROI.
Your returns on investment therefore, can be calculated as: Net profit from email marketing / Cost of email marketing.
According to the DMA (Data and Marketing Association), there other ROI statistics in email marketing that you can calculate as well.
These includes:
Top performers: is your ROI greater than $70 for every dollar invested?
Low performers: is your ROI less than $5 for every dollar invested?
Average ROI: How much did you make for every dollar invested?
Segmented emails: Measure your ROI from segmented emails separately. Statistically, segmented emails generate 36% of total email revenue.
Triggered and transactional emails: Also measure your ROI from triggered/transactional emails. This can give you 306% more click-throughs than regular emails
(Read also: 5 Tips For Higher Email Marketing Conversion Rates)
Email Marketing Best Practices
Digital marketing experts have proven these email marketing best practices. You can't afford to overlook them when planning your email marketing strategy.
1. Build an email list
Do not buy email lists. We cannot over-emphasize this. You can end up hurting your campaign, rather than helping it.
The first step to a successful campaign is to build your email list from scratch. You can find ways to build an email list that will convert here.
2. Strong subject line
Your subject line must be strong and attention-grabbing. This is the first thing your email recipient will see. It can determine if your email will be opened or not, irrespective of the great content.
3. Customized pre-header
Just like the subject line, your email recipient can get to see it without opening the email. It is the second thing your subscribers will see. When you upload a video, you can decide what thumbnail you want your viewers to see.
Changing the thumbnail can determine the click-through-rate of a video. Also, your pre-header can determine the click-through-rate of your email. Just like a thumbnail, you can customize your pre-header as well. The recipients get an inside look of your email before clicking on it.
4. Personalized emails
It's not just the pre-header that you can customize, you can customize each email to be tailored to each recipient. Sometimes, a pre-header showing that the email is personalized can improve your CTR extensively. "Drake, you made it…!" personalized emails gives your recipients an impression that the content of the email is specifically designed for them.
5. Branded emails
Every email is your brand speaking to your subscribers. Your email design, therefore, should include your logo, a unique signature, or anything that tells your subscribers that the email is from you.
6. Calls-to-Action (CTAs)
Do not assume your recipient know what actions to take after reading your emails. Calls-to-action influence your recipients' next steps. See it as a duty to inform them about the action they should take.
You can convert prospects into customers with CTAs. CTAs should be strategically placed in the body of your email and clear enough.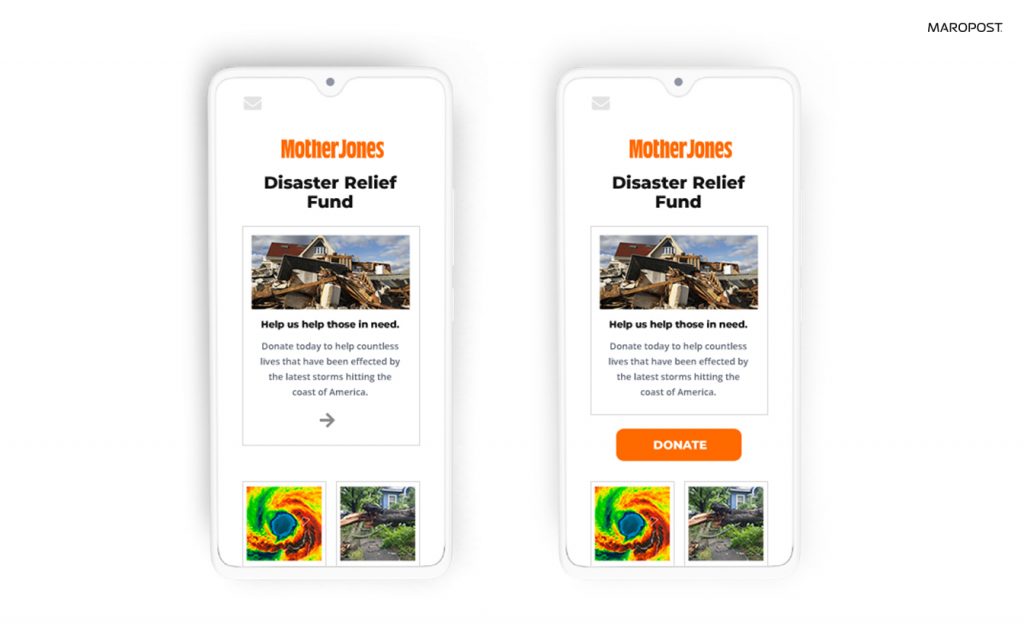 7. Option to unsubscribe
You wouldn't want anyone to unsubscribe. True. But your recipient only determines the relevance of your email. As your brand evolves, your email subscribers can also evolve.
Tastes and interests change. It is therefore essential to give your subscribers an option to unsubscribe if they want to. It isn't only a best practice, but the legal thing to do.
You are legally required to provide a "clear and conspicuous explanation of how the recipient can opt-out of getting emails from you in the future" – Federal Trade Commission and CAN-SPAM Act.
Email Marketing Platform
With the right email marketing platform, you can build a strong relationship with your subscribers. For an online store, an impressive email marketing software is a necessity. The right email marketing platform will enable you to send targeted emails at the right time.
You can send deals, news, and tidbits to your previous and current customers. You can, therefore, keep your customers engaged and increase their lifetime value with email marketing automation.
Need to chat about your email marketing strategy?
More than 10,000 marketers use Maropost to engage with their prospects and customers through customized and dynamic emails. We're here to help you growing your business!
Chat Now