Augmented Reality (AR) and Virtual Reality (VR) technologies are really starting to take off. According to Statista, the worldwide AR and VR market size is forecasted to grow up to $209 billion by 2022. But that's not all. The report further notes that the global AR and VR application downloads are expected to hit the 5.5 billion threshold at some time next year.
So Why Does It Matter?
In recent years, the demand for new and improved shopping experiences has risen. Customer behavior toward ecommerce has changed immensely. The new breeds of online shoppers – particularly Gen Z and Millennials – want to interact with your products digitally before visiting your store.
With AR and VR technologies, consumers get immersed in a digital world where they can quickly find products and try them on before actually completing the purchase. These cutting-edge technologies completely disrupt the customer experience, converting a prospect to a buyer.
Here are the top 8 ecommerce AR and VR trends for 2022.
AR Preview Placement
Augmented Reality has already proven to be effective in improving customer satisfaction. However, there is even more to expect in the near future. The technology reduces returns by giving customers a real-time glimpse of a product, its size, and how it'll look like in their homes.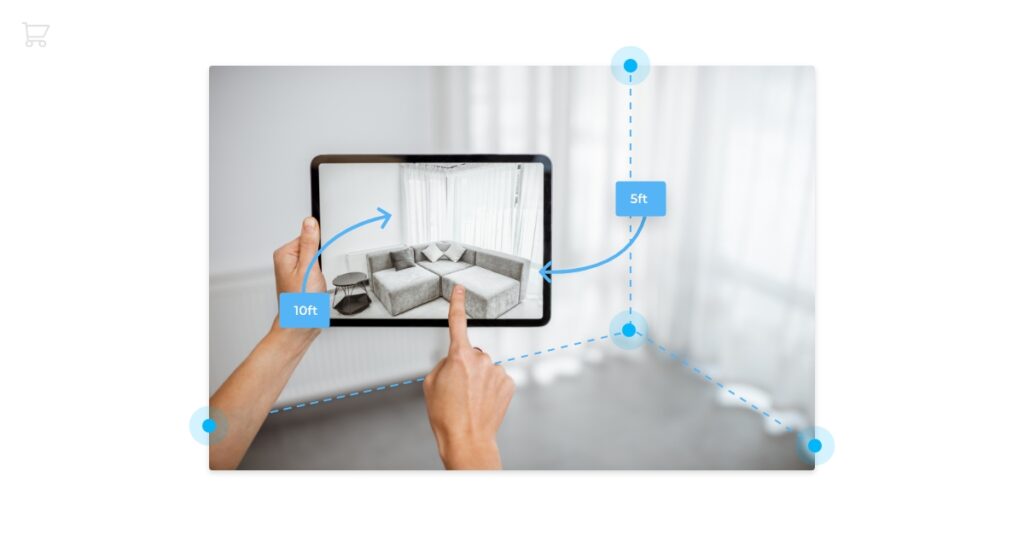 One ecommerce store that's doing well with AR-driven placement is the furniture giant, IKEA. The company has an Augmented Reality app that allows users to measure home furniture and see exactly how it would look when fitted into their environments.
Virtual Showrooms
Virtual showrooms and stores are poised to shake up the dealership market. A virtual showroom turns an empty room into a 100% digital scene, where customers can explore a variety of goods. With VR glasses, it's possible for clients to view distinct products, their characteristics, and costs just as they would in a brick-and-mortar store.
Kia, the famous automotive enterprise, has already taken advantage of VR's benefits in the ecommerce space. It enables its customers to go through various car models in a virtual environment so they can choose their ideal car easier. Kia deploys a high bar for the VR visuals to allow its would-be clients to drive their dream cars in 1-1 scale.
In-Store Navigation
Navigation powered by Augmented Reality will make it possible for customers to tour around a huge shopping mall easily and to find the right product. AR in-store navigation mostly comes in the form of a mobile app. These apps can do much more than provide users with an AR routing by leveraging advanced programming language features such as Python try catch.
AR-driven technology can suggest an optimized shopping route, display the exact location of the desired item, and even guide customers to discounts and gifts sections. One of America's leading home improvement brands, Lowe's, uses an in-store navigation app to overlay the directional prompts and help customers shop conveniently.
Virtual Try-On Solutions
The vast majority of ecommerce stores are forecasted to employ more Virtual Try-On technologies by 2022. This will greatly help shoppers understand what they're really buying. The concept of virtual try-on is currently more popular amongst clothing and shoe stores.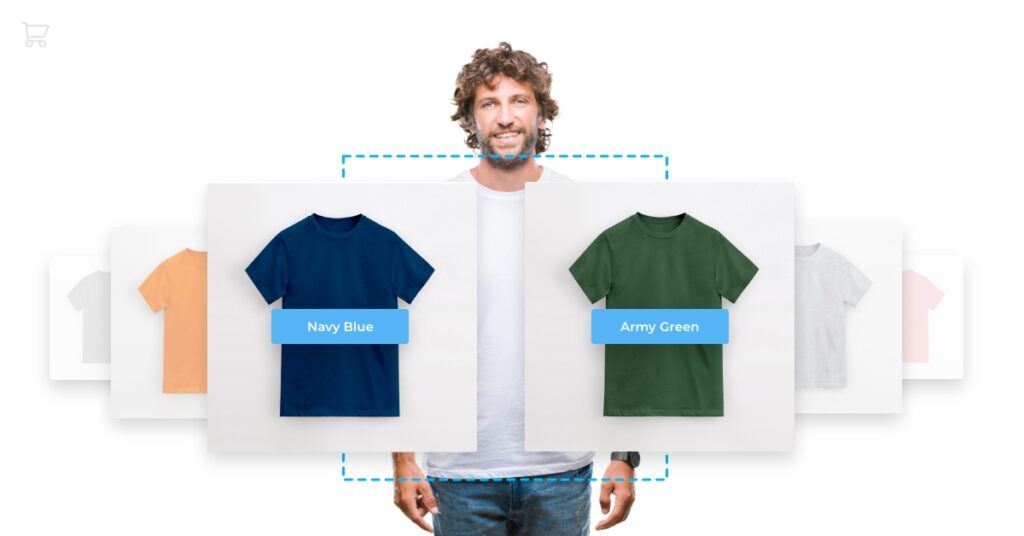 This is where AR-embedded mirrors allow customers to try on their desired clothes or shoes without doing it physically. Note that try-on applications are expanding significantly – they're now available for makeup, furniture, accessories and even eyeglasses.
VR for Houses and Apartments
VR technology will play a pivotal role in opening up the real estate industry. It allows potential buyers of houses or apartments to take a tour in the digital world. The best example is Softengi's real estate app.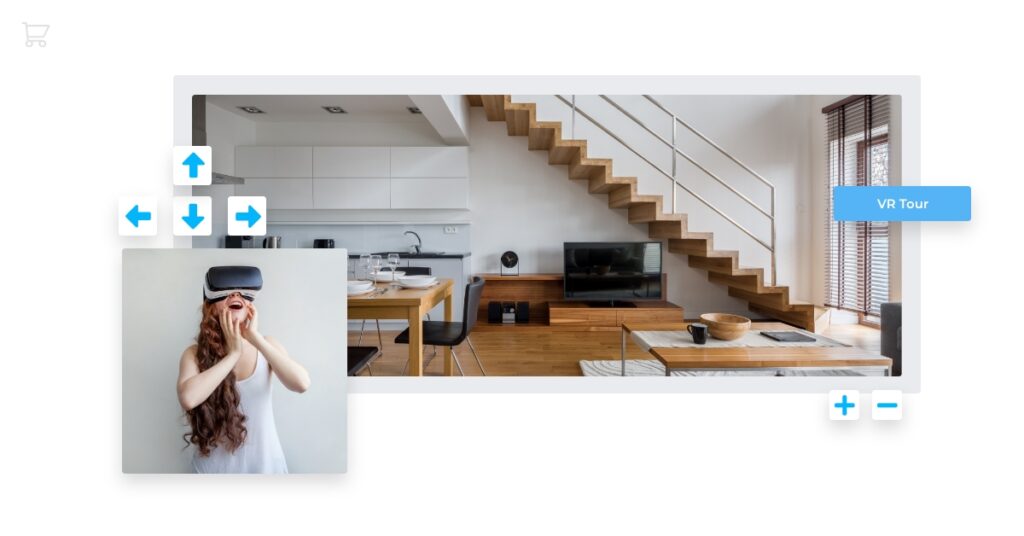 It allows retailers to create an exact model of a house or apartment, and offer the customers to visit virtually using a VR headset. The model is made from a house or apartment that's in the building phase and can be reconstructed.
Interactive User Manuals
Although it's a non-sales-related application of AR, Interactive User Manuals will be a trend in the coming years. This is especially the case for online stores that sell products with a steep learning curve, such as a coffee machine.
The idea is simple – customers use an AR application to scan the product. They then get access to a virtual walkthrough of the product, such as how to set it up, its features, and more.
Augmented Reality Filters
Businesses are implementing Augmented Reality Filters to help their clients visualize their products and make more informed purchase decisions. These tools allow customers to try on products like sunglasses, eyeshadows, lipsticks, and more.
Popular companies that are already enjoying this AR technology are Warby Parker Sunglasses Company and Sephora (make-up brand). Sephora has notably developed a virtual assistant that uses facial recognition so customers can try on different colors of makeup.
VR for In-Store Experience
With COVID-19 still wreaking havoc and the future seeming uncertain, more and more ecommerce businesses will use Virtual Reality to draw in customers. Keep in mind that traditional stores attract customers by creating an alluring environment with dynamic product displays.
For online businesses, now is time to invest in VR and to close the gap between traditional stores and online shopping. This magical technology induces the social aspect of shopping in real-time.
With 3D products, customers can walk around the VR store, interact with friends, and even ask a virtual member of staff for support if necessary.
Wrap-Up
Augment Reality and Virtual Reality deliver real, measurable benefits to online brands and their trends for the future are crystal-clear. As we speak, these technologies have already brought tangible transformations to many retail companies, from furniture and luxury goods to cars and more.
Needless to say, investing in AR and VR is now one of the surest ways your ecommerce company can draw new customers, increase sales, reduce the number of product returns, and build customer loyalty.
Are you already implementing these technologies or do you have plans to use them in your ecommerce business in the future? We'd love to hear your feedback.
Need to chat about your mobile marketing strategy?
More than 10,000 marketers use Maropost to engage with their prospects and customers through emails, SMS, social media and more. We're here to help you grow your business!
Chat Now