It takes some level of interest for someone to sign up for your emails and what you send to them consequently will either nurture the interest and put your business on top of their mind or make them unsubscribe.
The importance of quality email content cannot be over-emphasized if you want to have profitable email marketing campaigns. People are tired of having their inbox cluttered with emails that deliver no value. Some of them don't even bother to open marketing emails anymore before deleting them. This poses a big challenge and that's why you must make a good impression from the get-go.
In today's blog post we will be sharing with you 5 guidelines to create email content that will make your subscribers look forward to your emails
1. Use Personalization
Using personalization in your emails especially in your subject line is a great way to get your audience attention and increase open rates by as much as 5%. And this is even in its most basic sense, further personalization could increase the figure to about 11% – 55%. With the customer data you have at your fingertip, you can easily craft email content that will be personalized to them based on their location, purchase history, buying habits etc.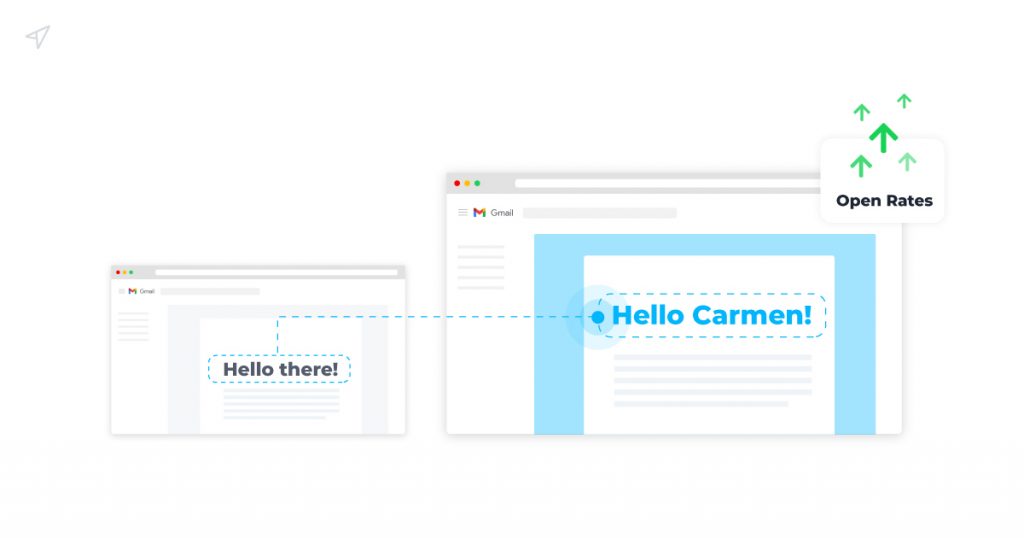 As a matter of fact, in a report by Harris Interactive 80% of customers who got emails like this say they would likely buy again from the same vendor. This comes as no surprise really because everyone loves being treated specially and that's what personalization helps you achieve. So, put all that data from your website to good use today as you type your emails and watch how the responses will stun you.
2. Keep your content short and fun
When you create your email content, it's important you give some human touch to it. Remember you're building relationships here so make your emails conversational, compelling and fun to read.
We all love things that evoke positive emotions even if it is a marketing email. So, get creative and differentiate your brand from others who – by trying to be professional – become very boring.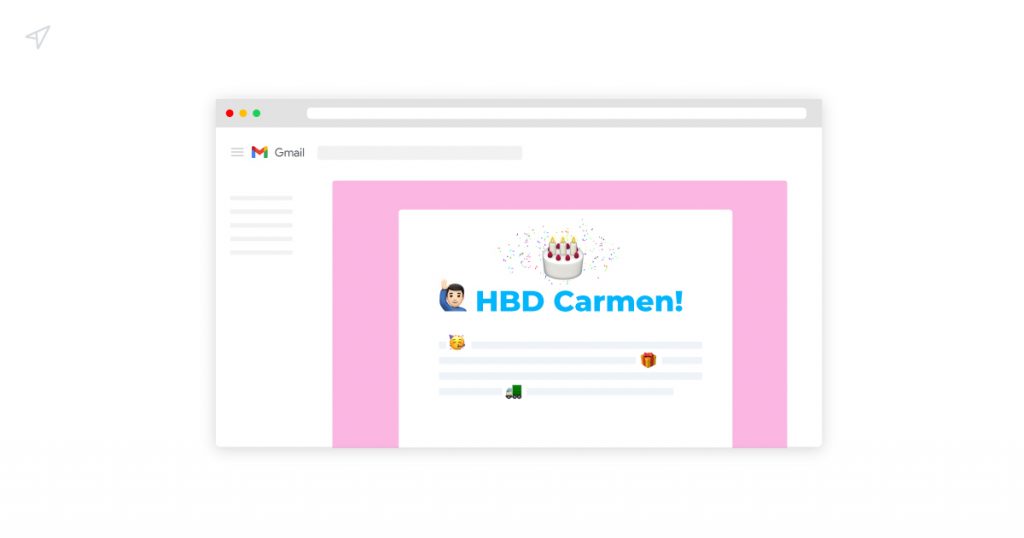 In transactional emails however, you might need to be more direct and straight to the point. But, when you share promotional or educational emails, show some personality to your audience, give them some imaginative character because people buy from brands they know, like and trust.
Also, make sure you write your email content in an active tone. A passive tone will make you seem distant and bureaucratic. For example, say "We have shipped your order.
And you can track it via this link" instead of "Order has been shipped. Tracking can be done via this link".
3. Improve your Sender Reputation
Sending an email to someone without their permission is considered spam regardless of whether or not you think the information will be helpful to them. It's important that as a business you do not spam because it will negatively affect your reputation as an email sender and might also attract fines from the authorities.
According to CASL, if you got implied permission from a user because they bought from you, that permission lasts for only 2 years after which you have to discontinue sending them emails. But if it's as a result of a product or service enquiry, you have 6 months. Express permission however does not expire.
Once someone signs up to your email list, set their expectations right in your first email especially about the type of email content to expect and how frequent they'll get them from you. If you don't have a regular schedule for sending emails your subscribers might forget you and why you're sending them emails.
Put the unsubscribe link at the top or bottom of the email where it is obvious to your readers. It is a bad practice to hide the unsubscribe link. Not only will it make your audience mark you as spam (when they become uninterested and can't stop you from sending your emails), it is also illegal.
4. Encourage your subscribers to whitelist your Email
In recent times email clients like Gmail and Outlook have created tabs to automatically sort email messages for their users. That means even though all messages are delivered, they all do not go into their inbox. Although, this automatic sorting of messages is constantly being improved upon, it does not work perfectly yet. So, despite all of the efforts put into creating good content, your email might end up in an unseen corner of their email box and because of that you lose out on sales and engagement.
To get the best results for your email marketing efforts, you want your emails to go straight to their inbox. So, you need to ask them to whitelist your brand's email address. Some brands only make this request in their first email alone, that is, the welcome email. But many subscribers usually will not grant the request because they are not sure if they would get valuable email content.
So, to improve your chances of being whitelisted, send them a non pushy request at the end of your emails from time to time. You never know when you'd pique their interest. Make it also clear to them that they can unsubscribe at any time thus, handling any objection they might have. Lastly, make sure you're not changing your email address constantly because your subscribers will have to update their whitelist email address list each time you do so.
5. Follow Footer Guidelines
Marketers rarely pay attention to the email footer like they do to the subject line and the email body. And understandably so. Email footer is always at the bottom of an email. You can think of them as a brand's email signature or business card.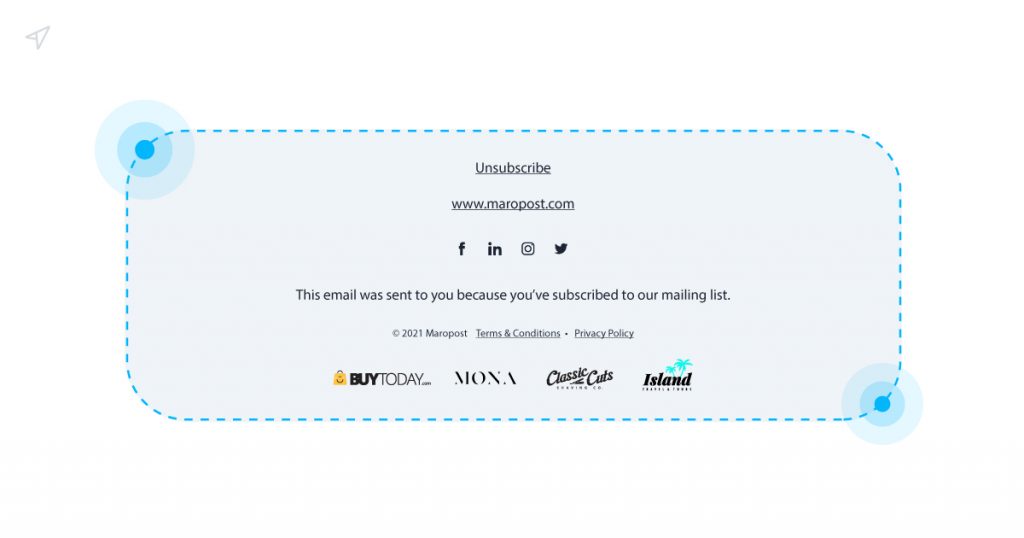 And even though they're often overlooked they contain certain important elements, some of which are required by law and others are display transparency.
Some of them the elements are:
Unsubscribe link: We know you don't want to lose subscribers but this is required by law.
Contact information: This could be a link back to your website or a mailing address or a physical address. A way for your subscribers to get in touch if they have questions or have forgotten you.
Social media links: With social media, they have even more options to connect with your brand and that builds trust.
Permission reminder: A statement reminding them of why they are receiving the email. It helps to reduce spam complaints.
Copyright and Privacy policy: A link back to your privacy policy is important especially if you're in the ecommerce space.
Social proof: The email footer is a good place to show off. So, if you have certifications or affiliations that could raise your perceived worth as a brand include them.
Feel free to design all these elements to suit your brand however ensure you arrange them in a hierarchy based on what your subscribers are most likely looking for.
Conclusion
Creating awesome email content requires a lot of time and persistent effort. Resist the urge to sacrifice relationship building for sales. You're in this for the long haul.
Through testing and tracking of results, you will find the best way your audience will like to be served. And when that happens, you won't be able to stop the sales from coming in.
If you want us to take all email marketing burden off you so you can focus on other areas of your business, speak to us today and we'll work out a custom solution for you.
Need to chat about your email marketing strategy?
More than 10,000 marketers use Maropost to engage with their prospects and customers through emails, SMS, social media and more. We're here to help you grow your business!
Chat Now