November 27, 2020 marks the beginning of the chaos known as Black Friday, followed by its cousin, Cyber Monday. You and thousands of email marketers will be ramping up their campaigns and volume to take advantage of this yearly phenomenon.
Black Friday 2019 saw 93.2 million buyers make a purchase online. With COVID-19 keeping people at home, 2020 is sure to set records for e-commerce traffic and sales. ISPs and mailbox providers like Comcast and Gmail also know this is coming and they are preparing too.
They, on behalf of their subscribers, want to weed out the spam from the wanted, the good from the bad, and the legitimate from the scams. Below are some best practices and strategies to help navigate those shark filled waters.
Email marketer's guide to strategy and successful inbox delivery
Start Early
According to RetailMeNot, last year 61% of retailers started promoting holiday deals as early as September and most shoppers start looking for deals in October.
Start closing the deal a week early by hinting with more specifics to come and to be "on the lookout" for your next mailing coming early on Black Friday, then send one additional mailing to non-purchasers later on Black Friday with a countdown timer, etc.
Sending a series of emails hinting at and building up to your Black Friday and Cyber Monday offers will help assure your message is seen, but be careful not to overdo it…
Keep it relevant and fresh
Sending more than usual is OK (within reason), but keep your audience's interest level by sending highly relevant and valuable content to avoid unsubscribes and spam complaints.
Stand Out In The Crowd
Use subject lines that:

Reference Black Friday or Cyber Monday
Show your discount percentage
Create urgency with deadlines or limited edition items
Consider emojis to stand out ?‍, ?, etc., but don't overdo it

Use a pre-header (the little text below or next to the subject line) that further entices your subscribers to open your email
Be unique in your content and offers
Use exclusives only you offer – These may be your items, but they could be giveaways, added free content or a matching charity offer, etc.
Use personalization in your subjects and in the content
Use GIFs, countdown timers and things to shop for within your email
Make sure your emails are formatted for mobile devices
Smartphones and tablets accounted for over 65% of all e-commerce on Black Friday last year.
Finish late
Extend your offers by sending campaigns after Black Friday and Cyber Monday by targeting anyone that did not purchase or open your previous offers with "last chance" subjects, content and additional discount offers.
Expand your audience, but do it wisely
If you plan on sending to an audience that is greater than 50% of your normal list size (25% if your list is very large), you need to do that incrementally.
Start now by increasing volume by gradually expanding on your current engaged segments. If you normally send to subscribers that have opened in the past 30 days, start by expanding that to those that opened in the past 45 days, then 60 days, etc.
Be careful not to increase volume by more than 10-12 percent of your normal list size each time you increase.
Less is more
If possible, send to your list in smaller chunks over a few hours. ISPs are more likely to inbox a smaller amount of email received at one time rather than one large mailing all at once.
Segment your list and create different content (dynamically or manually) for different type subscribers
Past Holiday Shoppers
Frequent Buyers
Infrequent Buyers
Opener and clickers that have purchased
Send to your most engaged subscribers first to assure delivery
This can be done through segmentation or by using a feature like Maropost's "Priority Send".
Send based on your subscriber's time zone
Utilize proper time zones with features like Maropost's "Time Zone Optimization"
Send to your contacts based on when they normally open your emails or when they normally buy from you
This can be done through segmentation or by using features like Maropost's "Send-Time Optimization" and "Conversion-Time Optimization".
Monitor the results of your emails along the way
Check for bounces and complaints – if higher than normal, you may want to pause your campaign(s) and rethink your sending strategy or slow things down.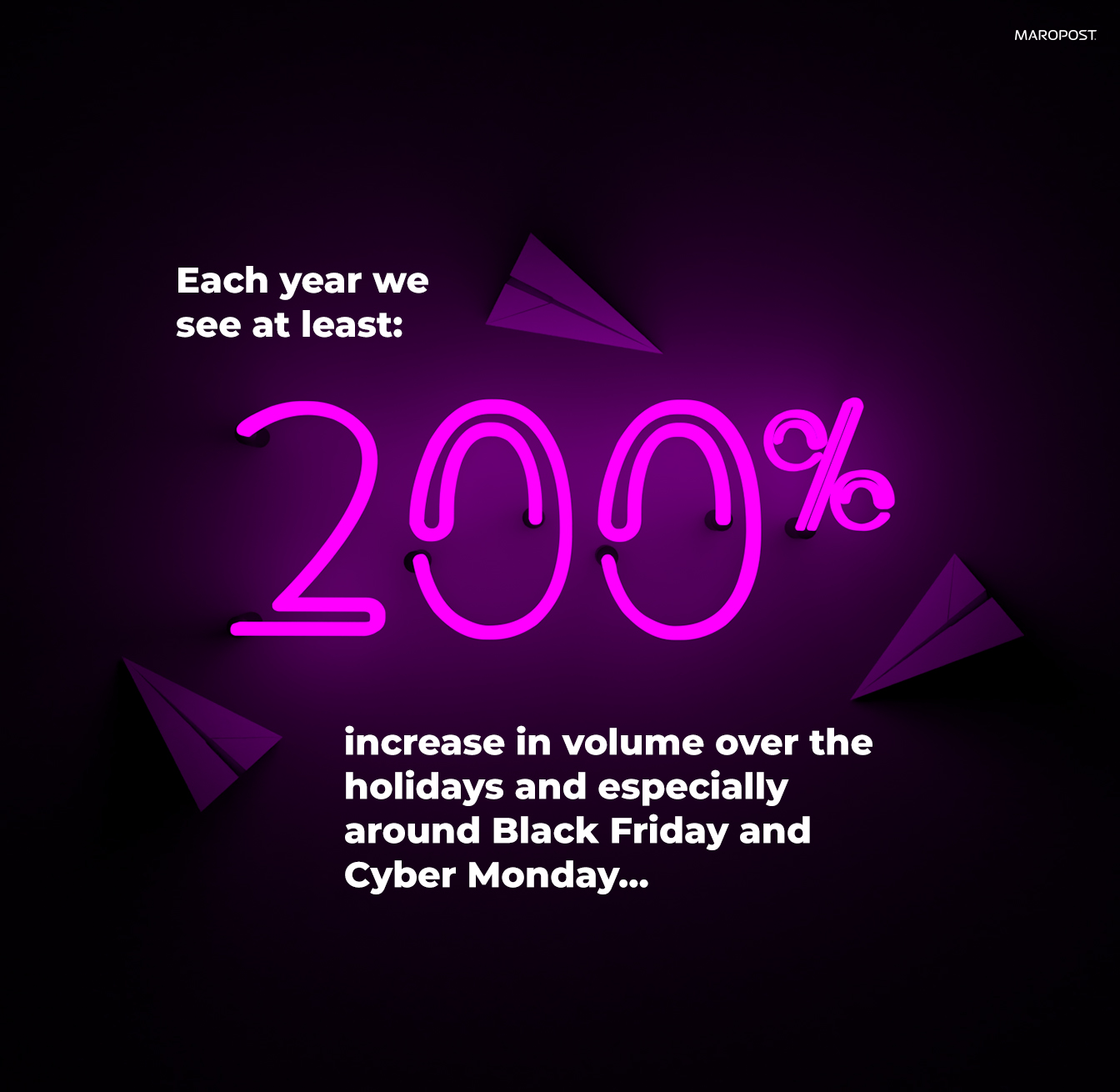 How our Email Marketing Automation platform helps you to succeed during the holidays
Our team of Deliverability Managers have over 50 years combined deliverability experience so we have seen just about everything.
Are you a Maropost customer? Your own dedicated Deliverability Manger assigned to your account can help you navigate through the peaks and valleys to help your email reach the inbox.
Your dedicated Deliverability Manager and the entire Deliverability team here at Maropost know that Black Friday and Cyber Monday are the biggest mailing days of the year for you. That is why we take extra measures on our end to assure you have a smooth and successful experience with your holiday campaigns.
Each year we see at least a 200% increase in volume over the holidays and especially around Black Friday and Cyber Monday. To help assure smooth sailing for our clients, behind the scenes each year we scale up and adjust our own infrastructure well in advance of Black Friday to meet the increased volume and extra campaigns going out.
We also take care to analyze each of our client's accounts doing a comprehensive review based on a checklist of over 15 items affecting deliverability, checking things such as reputation, active to inactive subscriber ratios, ISP filtering, complaints and blacklists.
Each Deliverability Manager will then work with their assigned accounts based on each of their specific needs over the holidays.
Finally, our team of dedicated Operations Analysts will keep a close eye on everything behind the scenes, all day, every day, fine tuning things by adjusting the various settings needed at each individual ISP and mailbox provider that is receiving your mail (things like speed, throttling and rate limits) just in case there are any surprises that may arise.
Please let us know how we can help YOU!
Need to chat about your email marketing strategy?
More than 10,000 marketers use Maropost to engage with their prospects and customers through emails, SMS, social media and more. We're here to help you growing your business!
Chat Now