Maropost and Spiff3D are here to automate product customization for every ecommerce business.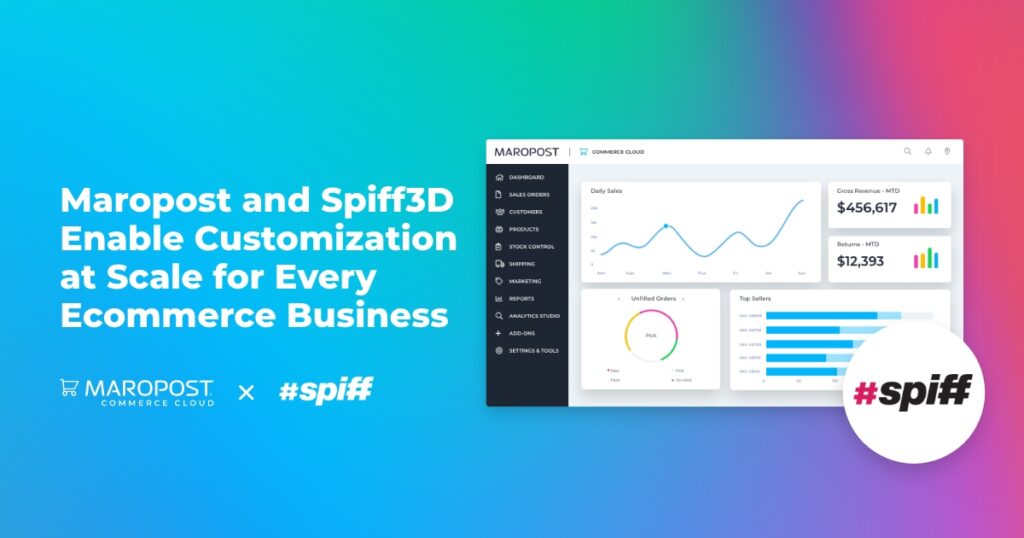 Toronto, Canada, November 30th, 2021 – Maropost, the leader in the ecommerce and multichannel marketing software, comes together with Spiff3D, a powerful platform for product customization.
Replicated fast fashion is out. Customizable products are in. What can be customized? Shoes, packaging, greeting cards, chocolates, or even tombstones!
Spiff3D didn't want to be just another product configurator listed on an app store – they are much more with that. So they developed deep relationships by simplifying marginal revenue, customer journeys, end-to-end experience, and optimizing fulfillment operations – all in an effort to help ecommerce merchants succeed.
This high demand for unique products brings many challenges. Operations and downstream fulfillment are perhaps some of the most prominent ones.
"So many ecommerce platforms provide a customer-facing layer without bothering to solve some of the much harder, operational challenges that many retail entrepreneurs have to face. What impressed us with Maropost was their focus on true end-to-end ecommerce. We had a handful of Maropost users who were begging us to invest in the integration and we're glad we did," – says Shadi Taleb, CEO of Spiff3D.
Spiff3D was originally introduced to Maropost via an advisor who spoke highly of the company. Once both companies started working on the integration, it became clear why this partnership would be so valuable.
"There was a natural fit in the mindset of both of our companies and the clients we shared," – says Ross Andrew Paquette, CEO of Maropost.
What exactly does this integration offer? For one, flexible order routing. Once the product has been customized, order instructions can be sent anywhere – a manufacturer, directly to a fulfillment center, CNC router's system. The possibilities are endless!
Today, Maropost and Spiff3D are pleased to open up the ecommerce world to the futuristic possibilities of 3D, dynamic manufacturing, and automated personalized fulfillment.
Need to chat about your mobile marketing strategy?
More than 10,000 marketers use Maropost to engage with their prospects and customers through emails, SMS, social media and more. We're here to help you grow your business!
Chat Now