Maropost, leader in the ecommerce and multi-channel marketing software, partners with Catch, one of Australia's leading ecommerce platforms, to help vendors surpass their business goals and grow like never before.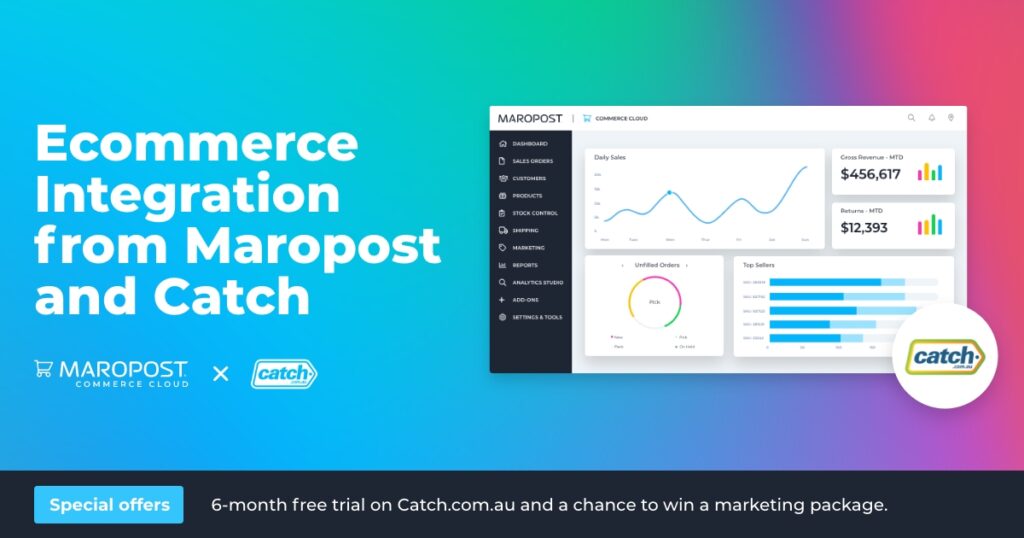 Toronto, Canada (PRUnderground), September 1, 2021 – Maropost is on a mission to help online merchants grow their businesses with the best all-in-one ecommerce and marketing automation solution in the market. Thanks to this new partnership with Catch, Australia's leading ecommerce platform, Maropost is now offering ecommerce businesses two special deals: 6-month free trial on Catch.com.au and a chance to win a marketing package.
Catch.com.au is part of the Wesfarmers Group – Australia's largest retail conglomerate. This places Catch in good company alongside the nation's favourite retailers like Kmart, Target and Bunnings & Officeworks.
"Selling on Catch means joining one of Australia's most trusted retailers, where millions of Aussies start their shopping journey. We are constantly increasing our everyday range to offer our customers the widest product range in the market. This is where our partnership with Maropost comes in – we truly believe that together we can help even more ecommerce sellers break through the crowd," – says Damien Mersini, Partnerships Program Lead at Catch.
Increasing sales volume, brand exposure or consumer confidence – Catch and Maropost can help online businesses with all of that and more.
"Maropost provides a smooth and scalable integration solution so that vendors can successfully sell their products on Catch.com.au. With Catch's profile and audience growing exponentially, vendors are able to reach a vast and engaged audience unparalleled in the ecommerce industry," – says Ross Andrew Paquette, CEO and founder of Maropost.
To really show how much Maropost and Catch can offer ecommerce sellers, two companies are offering a special deal: merchants who sign up until October 3 will receive a 6-month free trial selling on Catch.com.au (for a total saving of $300 AUD). What's more, all signed accounts until October 3 will go in the draw to win a bespoke marketing package (valued at $2,500 AUD).
About Catch
Catch.com.au is one of the country's leading Australian owned and operated ecommerce platforms. Described as Australia's favorite superstore, Catch is constantly increasing their everyday range to offer their customers the widest product range in the market. Catch has an ambitious goal of working together with as many vendors as possible and helping them achieve their business goals.
About Maropost Commerce Cloud
Maropost Commerce Cloud is the all-in-one B2B and multi-channel ecommerce platform. Commerce Cloud helps B2B and multi-channel businesses scale fast through their all-in-one ecommerce solution. Inventory management, order management, and shipping labelling capabilities has led to processing over $3B in annual sales.
Need to chat about your mobile marketing strategy?
More than 10,000 marketers use Maropost to engage with their prospects and customers through emails, SMS, social media and more. We're here to help you grow your business!
Chat Now