Maropost helped Giftagram, provider of memorable corporate gifts and recognition programs, with sender reputation, engagement and conversion rates.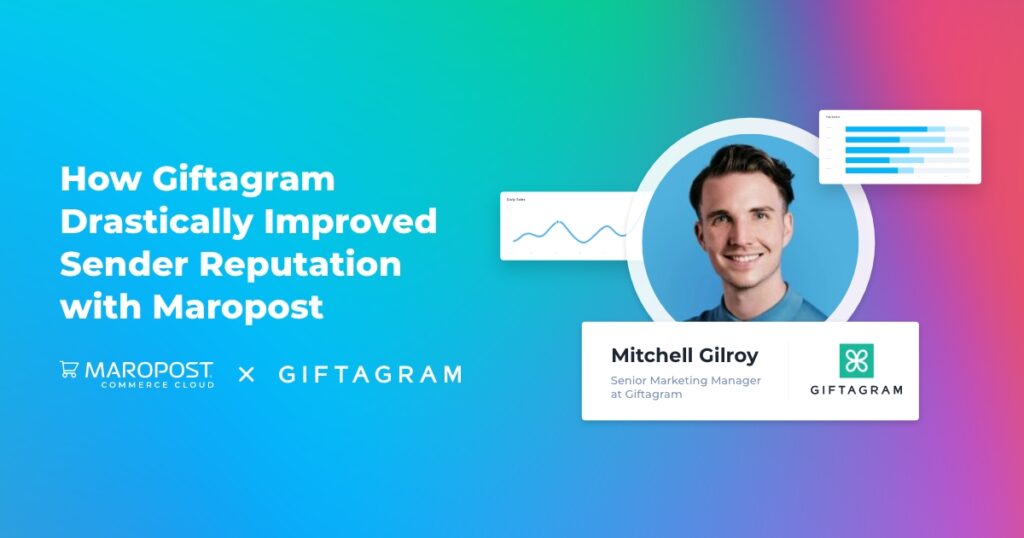 Maropost, leader in the ecommerce and multi-channel marketing software, is known for its high deliverability, inbox placement and conversion rate features. All of that was exactly what Giftagram needed to uplevel their email marketing game. 
Giftagram relies heavily on emails and faced some challenges when it came to deliverability. Their emails were ending up in spam, causing their sender reputation to drop. Luckily, Maropost came to rescue.
In five short weeks, Giftagram's open rates jumped from under 10% to 25% and their sender reputation improved from Bad to High. These results helped them recover revenue and avoid ISP blocking.
"Once we improved our deliverability, we saw a 33% increase YOY for our Father's Day sales. This direct correlation between email and revenue is all that we needed to see just how powerful email is, and how harmful incorrect strategies could be," – Mitchell Gillroy, Senior Marketing Manager at Giftagram.
Maropost is continuously working with Giftagram to maintain this success and help Giftagram serve their customers well.
"We're delighted to see these results and will work hard together with Maropost to maintain our strong reputation," – Mitchell Gillroy, Senior Marketing Manager at Giftagram.
Thanks to a wide array of solutions that Maropost offers, it's easy to identify the exact challenge and brainstorm the best way of addressing it.
"Seeing the real impact we're having on businesses is inspiring. Uncovering the underlying reasons, not just the symptoms like low engagement, is what we do best. With the help of tools like Maropost Marketing Cloud, we can clearly see what's affecting all metrics and what's the best way of maximizing success. We pass on that knowledge to our clients like Giftagram and the results speak for themselves," – Jacopo Mauri, Head of Marketing at Maropost.
Giftagram was able to get great results and find better ways of serving their customers just in time for the busy holiday season. Their entire case study with many more details is available here.
Need to chat about your mobile marketing strategy?
More than 10,000 marketers use Maropost to engage with their prospects and customers through emails, SMS, social media and more. We're here to help you grow your business!
Chat Now