Maropost and Stamped.io are making UGC, reviews, ratings and loyalty incentives easy, accessible and automated.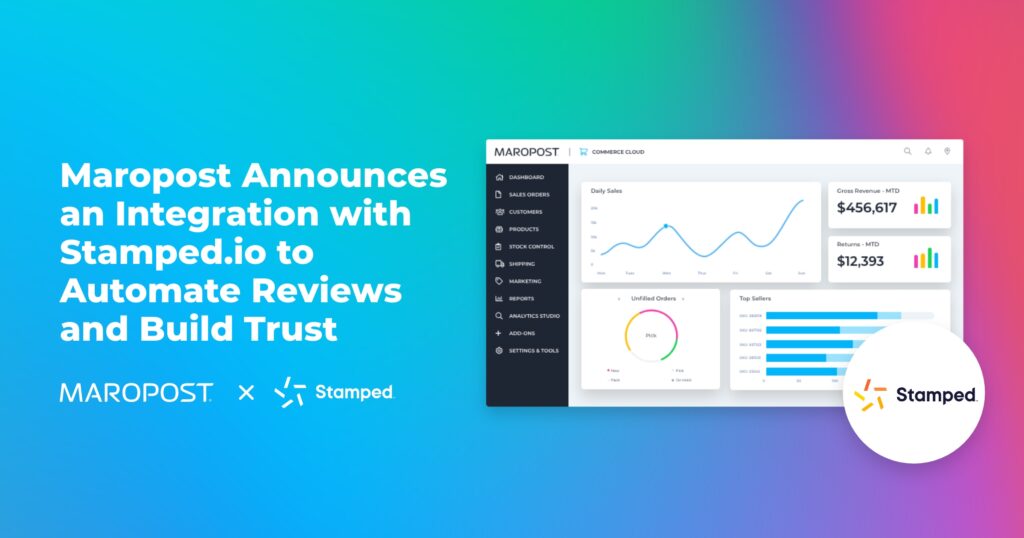 January 12, 2022, Toronto, Canada – Maropost, leader in ecommerce and multi-channel marketing software, is all about working harder not smarter. They enable their customers to do same with the help of automation. And so does Stamped.io – a multi-channel ecommerce marketing automation platform designed to optimize customer acquisition and retention for ecommerce merchants.
Many ecommerce merchants ask themselves: "How can I utilize positive customer feedback to grow my brand and build my customer base?". Stamped.io has the answer.
What started with a simple review collection and display system has evolved into the full ecommerce Marketing platform. Now with a global team of over 30 and 46,000 customers, Stamped continues to support ecommerce sellers who want to leverage UGC and loyalty programs to scale their businesses.
"Above all things, we aim to provide helpful solutions to entrepreneurs in the ccommerce space. At Stamped.io, we actively seek out integration partners who share our values of providing effective tools for growing ecommerce businesses of all sizes. 
We're happy to partner with Maropost to provide our customers an integration that offers quality access to consumer insights in one convenient location," – says Matthew Hollingsworth, Chief of Staff at Stamped.io.
Here are just some of the benefits that Maropost customers will get access to through Stamped.io's integration:
Request and manage customer reviews seamlessly through automated and customizable workflows

Embed review requests directly in email to significantly increase review request conversions.

Easily capture compelling and rich text, photo, and video reviews to display on a website with built-in widgets

Display and share reviews across social media and marketing efforts for increased brand awareness and customer engagement

Harness the powerful conversion tool of User Generated Content to showcase authentic product reviews across your social media, ad campaigns, and marketing efforts

Enjoy the benefits of our review syndication. Push product & site reviews to Google, Facebook, Instagram, Twitter, Walmart, Target, and other retailer websites to significantly increase traffic to the website.
"We think of Stamped as the ultimate team player – from the migration, integration, and improvement of marketing stack conversions through open API access; to unique bespoke program solutions and excellent customer service at any plan level. Stamped is an extension of any in-house team. That's why partnering with them brings so much value, increased sales conversion rates," – says Ross Andrew Paquette, CEO of Maropost.
Maropost and Stamped.io measure their success in their contribution to a large and diversified ecommerce economy. Both companies are excited to serve their customers even better together.
About Stamped.io
Stamped.io is a multi-channel ecommerce marketing automation platform designed to optimize customer acquisition and retention for ecommerce merchants. Engineered for reliability and scale, Stamped.io empowers online retailers of all sizes with access to enterprise-level technology for accelerated business growth through reviews, ratings, and loyalty incentives programs. 
As a product-focused company, Stamped was designed by entrepreneurs for entrepreneurs, providing data-driven, cost-effective solutions in a single-platform approach; so sellers can get back to uniquely contributing to today's global ecommerce consumer market.
Trusted by industry-leading brands and headquartered in Victoria, B.C, Stamped.io currently supports 46,000+ global ecommerce merchants contributing to a diversified ecommerce economy.
Need to chat about your mobile marketing strategy?
More than 10,000 marketers use Maropost to engage with their prospects and customers through emails, SMS, social media and more. We're here to help you grow your business!
Chat Now