Loyalty program is one of the best ways to connect customers. Here are some ideas.
Marketers across all industries are relying heavily on customer loyalty programs to tackle customer retention and for a good reason: almost 64% of retailers say that the loyalty program is the best way to connect with their customers. 
What does that even mean you may ask?
Today's digital consumer is much more sophisticated, knows what he wants and has very little tolerance for poor customer experience, considering how easy it is to switch to your first competitor. So the ball is very much in the merchant's corner: it's up to you to find out what your customer wants, what will make them happy and keep them coming back to your store for more. 
If you ever shopped at Sephora, you're familiar with their Beauty Insider loyalty program. The Beauty Insider has 25 million users and drives a significant portion of the beauty giant's revenue.
The secret?
Their loyalty program is used heavily to cater to what their consumers want, deliver unique experiences that trigger emotional responses and is constantly evolving to stay current and guide members through future trends.
Customer loyalty programs are an alternative growth channel that can help ecommerce brands improve many aspects of the business such as: increase the repurchase rate, boost customer acquisition and foster a community of loyal customers.
Check out these 5 loyalty program benefits for ecommerce brands.
Increase repurchase rate with a points and rewards program
The points and rewards program is at the heart of loyalty marketing strategies. The power of the point is versatile – it's a currency you can use to incentivize various profitable behaviors by your customers. It can be anything from earning points for each dollar spent at the store, to following you on social media or leaving a product review on your site. For every action you want customers to take with your brand, you can award them points. 
The value of those points is of course in the rewards they can be redeemed for. This is where you want to use your knowledge of what your customers really want from your brand. In other words, what they would find extremely valuable to go out of their way to get it. You can be super creative and offer rewards in the form of a discount, free product, free shipping and more.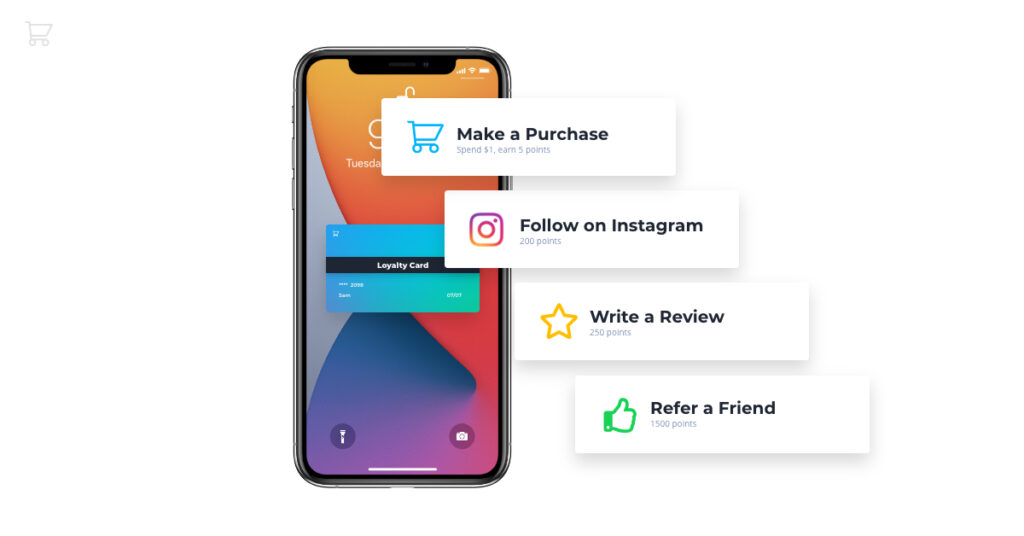 The benefit: people love getting rewards such as discounts or free perks. It's a huge motivator to come back to your store and use the rewards on the next order, increasing the repurchase rate.
Decrease acquisition costs with a referral program
A staggering 92% of consumers say that they trust word of mouth and recommendations from friends and family more than they trust any form of advertising. Considering that online advertising costs are on the steady rise, it's worth exploring other, more organic ways of spreading the word about your brand. 
Referrals are essentially word of mouth advertising and are very effective in raising brand awareness and lowering customer acquisition costs. Here's how.
A referral is a customer behavior where a customer or someone who is familiar with your brand shares a message with friends and family with a clear CTA: buy your products.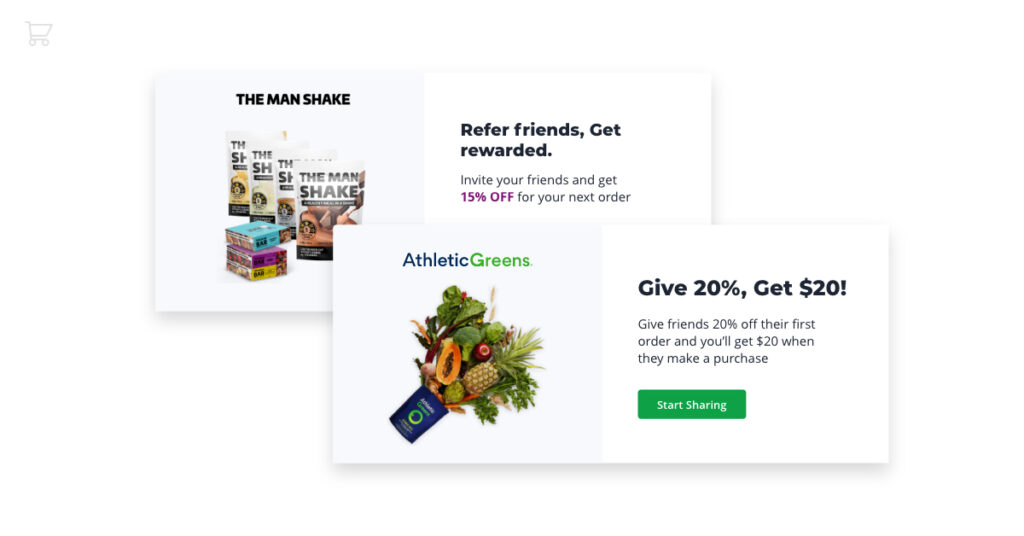 However, today's consumers don't feel like engaging in any behavior simply because they've been asked to. They have plenty of places they can go to shop without being asked to do something.
When thinking about how to create an excellent referral program, consider incentives. Incentivizing a referral is a way to ensure the referral is successful and everybody gets the desired outcome. You may have already encountered an example of a referral in ecommerce brands: "Give $10, Get $10."
The benefit: given that people trust referrals from friends and family way more than any other advertising form, you can significantly lower your acquisition costs and still increase the outcome of your efforts by gaining lots of new customers and at the same time, creating brand ambassadors.
Increase customer engagement and CLTV with a VIP Tiered Program
Tiered programs are an amazing way to reward your most loyal customers and build a strong brand community. Just check out this example by I Love Linen: their brand community revolves around Friends, Family and VIP membership levels where members enjoy different perks as they move through the tiers.
The most attractive thing about VIP programs are the various benefits you can offer to reward your most loyal customers. This can be anything: an option to earn more points for the dollars spent at the store, motivating welcome rewards, lifetime rewards for each order made and custom rewards such as various experiences, gifts, donations and more.
These rewards, which you strategically choose based on your knowledge about what motivates your customers to buy from you, have several effects.
They influence the repurchase rate of VIP members, motivating them to come back to the store and use their rewards. They also increase the lifetime value of these customers, as they're motivated to keep their membership and climb the tiers to enjoy even more from your brand.
This opens the door to limitless opportunities to offer emotional perks to your customers such as point multiplier, a special entry reward, a lifetime reward and custom experiential rewards.
The benefit: tiered programs have the gamification element incorporated into them, keeping customers super engaged with your brand and away from your competition.
Distinguish your brand from the competition
If COVID has taught us anything, it's that the online marketplace will only continue to expand with more and more brands, raising the standards for the excellent customer experience and increasing the competition across all industries.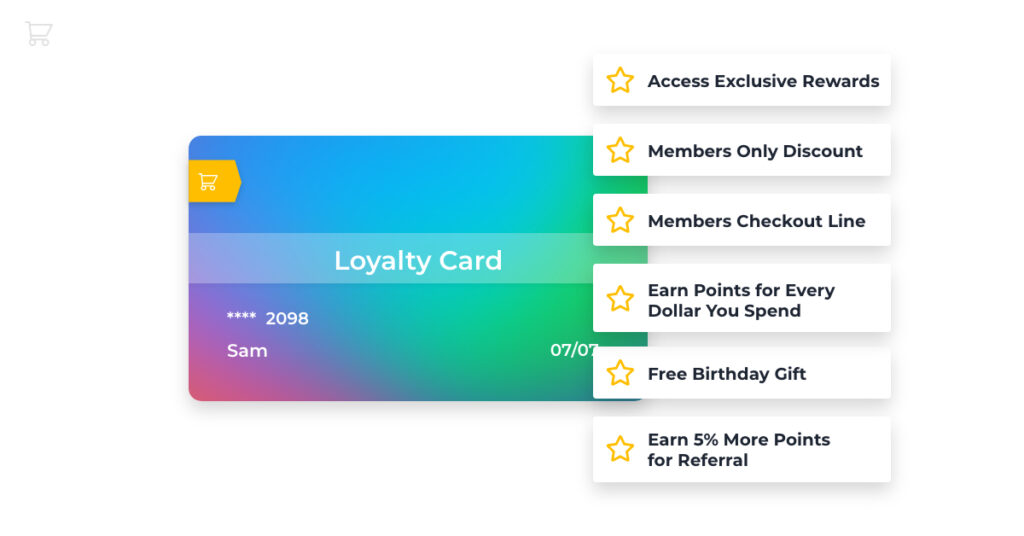 So start early and make sure your brand offers something that your competitors don't – a loyalty program app hosting your rewards offers and allowing you to customize them to the finest detail. It will help customers make an easy choice when deciding where to buy and you'll no longer need to worry about price differences with your competitors.
Increase the Average Order Value
As an ecommerce marketer, one of your main goals is to increase revenue and profits, and the best way to do this is to increase the average order value (AOV). Your loyalty program is your partner in executing this strategy: offer various perks such as free shipping for orders above the AOV and have customers stretch just a bit to get a rather valuable reward.
Based on your insights about your customers, offer discounts that you know they'll love and will not hesitate to spend a bit more to get them.
Another way your loyalty program can help you increase your AOV is through a strategic VIP program based on the amount spent at the store. Structure the different tiers to inspire people to spend a bit more and gain access to all the amazing perks that come with tier membership.
Wrap up
Customer loyalty programs are a powerful tool for ecommerce marketers who are looking to boost customer engagement and drive sustainable business growth. Considering how costly it's becoming to acquire new customers, it only makes sense to increase the value of the ones already acquired. 
With an automated loyalty and referrals program you can tap into the potential of the customers you already have, gain a competitive advantage over your competition and boost business growth – all without spending too many resources on deployment and management.
Need to chat about your ecommerce marketing strategy?
More than 10,000 ecommerce marketers use Maropost to engage with their prospects and customers through emails, SMS, social media and more. We're here to help you grow your business!
Chat Now