An Email campaign is a digital marketing strategy aimed at prospects and customers via the use of emails. These campaigns are often measurable and are targeted at a specific audience for a host of reasons which may include; improved business engagement, increased numbers of leads and sales, data collection, as well as generating brand awareness.
Email marketing remains a viable digital marketing strategy as it continues to stand the test of time and generate great results. Statistics show a 760% increase in revenue for companies that use segmented email campaigns. More so, over 73% of millennials prefer interactions from businesses that come via emails. 
Below is a guide on all that you need to know when setting up an email campaign strategy:
1. Why are Email Campaigns Important?
 As stated above, emails remain a viable medium for marketing and business-related interactions even in the social media age. For most businesses, email campaigns provide a gateway to so many possibilities.
These effective emails represent a form of digital marketing that offers the opportunity for effective communication with a targeted audience. Email Campaigns are an ideal option for organizations or businesses aiming to increase customer engagement, convert prospects, or nurture leads.
Before attempting to implement strategies peculiar to any email marketing campaign, it is important to have a goal or array of goals set. These goals or targeted result are usually the drivers that indicate the ideal campaign to be employed.
2. Email campaign metrics and KPI's
It is best to be familiar with the key performance indicators and metrics of an Email campaign. This builds on the importance of having a set goal for your email marketing strategy.
With this, tracking is made easy because you know exactly why you are measuring. So, what the key terms to be focused on in other to be able to effectively track the performance of your campaign?
(Read more in our article: 10 Essential Email Marketing KPIs and Metrics).
Deliverability
The deliverability rate measures the number of emails delivered. It is impossible to have a 100% deliverability rate. There is a tangible difference between an email getting delivered into a receiver's inbox and being lost somewhere in the junk folder.
It is exactly why Inbox Placement Rate (IPR) is another great KPI to look out for.
Open rate
This measures the number of emails sent that are actually opened. It goes further than having a great IPR percentage and indicates whether or not subscribers access what is sent to them. As with most tracked metrics, after studying the trends, adjustments must be made accordingly.
Click-through rate
The CTR indicates how many recipients clicked on links within your emails, this may also include the unsubscribe link. It is important because it shows what links interest your subscribers as well as their position in the email sent. To truly optimize the CTR, ensure that you track the links that your receivers click on.
Unsubscribe rate
The rate at which recipients unsubscribe to your email list is correlated to so many other things, and this is why it remains a very important KPI. When making tweaks such as a change in schedule for sent emails or a change in template design, it is important that you study how it affects the unsubscribe rate.
Click to open rate
It simply indicates the number of people who clicked on a link after having opened your mail. This KPI places the number of emails opened side by side with the number of click-throughs. By juxtaposing these two, you get an idea of how effective your subject lines and email contents are.
3. Email campaign best practices
Optimize your campaign with the use of an Email builder
Email builders are editable and efficient online tools. These provide easily customizable already made templates and email designs for use. They are usually catchier when compared to other generic, plain text only variants. It is a responsive email marketing tool that sets you apart.
Target responsivity
The most effective email campaigns have designs suited for multiple devices; emails can be read on mobiles, desktops, as well as tablets. Out of these listed devices, it is important that campaigns have inbuilt adaptability and the quality of responsiveness when accessed on mobile devices.
Brand and Personalize your campaign
Your subscribers will be able to better relate to the content in your emails when it is crafted in such a way that specifically addresses them. This seemingly personal email can be a great way to spark up interaction. A touch of branding will go a long way to making your campaign memorable too. Visuals are also a go-to option as they serve to simplify the text.
Always use suitable CTA's
The call to action (CTA) in any email is that which prompts a subscriber to respond in a particular way i.e. to take some specific action. The most effective email marketing campaigns usually have goals and call to actions worded around them.
Scheduling
Campaigns should be created with the importance of proper timing put at the forefront. A lot of factors dictate a subscriber's response and whether or not they will be inclined to open your emails. Generally, most people are usually asleep at night time and commute hours are busy rush hours with people shuttling back and forth.
When developing your email campaign, consider data obtained from your subscribers such as their habits and their lifestyle. Also, factor in what day of the week it is and the type of content to be sent.
4. 8 Must Have Email Campaigns
Think of the welcome email campaign as a series of welcoming emails, a routine process that comes after you gain a new subscriber. This campaign provides the best opportunity for you to introduce your brand especially at a time when recipients are likely to be more open to it.
Asides from educating subscribers about your brand, this interaction can be used to collate subscriber data and register various preferences.
Welcome Emails generate great revenue when employed effectively. In terms of metrics, these types of email campaigns are also known to have higher than average CTR's as well as click to open rates.
Just as it appears, these types of emails are usually aimed at promoting a product and getting it out there. These types of transactional emails are typically the most common. An average subscriber likely gets dozens of these types of emails daily, so it just might get lost in the horde.
To set your promotional emails apart, be systematic and strategic about your campaign. Craft thoughtful series of emails that are interlinked while progressively building upon one another.
Add a touch of humor, evoke strong emotions, spark up curiosity, and use catchy designs as well as templates. When you do this, it is not likely to be ignored like the average promotional email, and will keep your subscribers hooked.
With this ensured, recipients who receive emails will also be more willing to respond to whatever CTA you put out there.
Seasonal email campaigns can be described as a form of promotional emails; they are holiday-specific and therefore dependent on season. Holidays are a perfect period for email marketing and statistics show that these types of sales account for about 20% of all retail sales. In the US alone, this figure translates to more than $84billion.
It is important to note the important holidays in whatever country you are promoting. When setting up campaigns like these, it is best to start early, build up to it, and then create a follow-up after. Use themes and language that align with the spirit of the season. Making it a limited and discounted offer will provide some form of urgency too.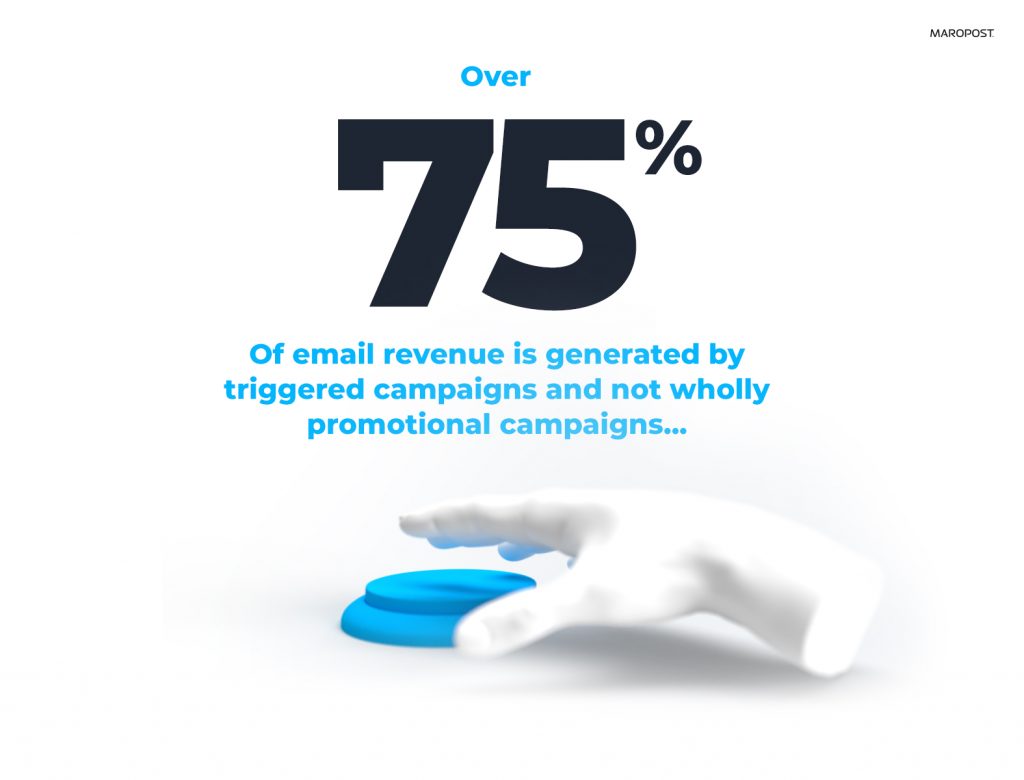 Think of a triggered email campaign as an automated web of interconnectedness. It is a form of email marketing automation where a user's action can trigger other specific and relevant emails.
According to a DMW report, Triggered campaigns and not wholly promotional campaigns generated over 75% of email revenue. Actions that can precede a trigger includes a range of activities such as taking a survey, purchasing a product or service, carting an item, and clicking links present in a promotional mail.
There are an array of triggers that can be employed. Find out here.
The post-purchase campaign is not usually aimed at selling. These automated emails are triggered by purchase. While this form of emails isn't so common, they are an effective way to do follow up after purchase.
You could send an email structured in a way that would end up adding value to a recipient even after a purchase made. Say a tip or important guideline you think a client would be delighted to know about.
Campaigns like these also provides subscribers the opportunity for interactions aimed at fostering trust and builds brand loyalty. 
These might not qualify as the traditional campaign type because they go on indefinitely. Think of these email newsletters as a medium for continuous communication between you and your audience.
Why is this important? First, it is a great way to grow your audience. It can also provide an opportunity for building brand loyalty and keeping your subscribers properly informed. Product updates, information on new blog posts, and other entertaining content can be shared in these newsletters.
There's a reason why they are also called "digests", they are not meant to be sales targeted pitches that recipients quickly get tired of.
This is a triggered type of email that shows up when a client carts an item but fails to make a purchase. Campaigns created around situations like these are usually timed and incentivized.
Much like welcome emails, these types of email campaigns tend to have higher than average open rates and convert more.
A re-engagement email campaign aims to engage inactive subscribers into activeness and assess whether or not they are worth keeping. Statistics show that the annual email list churn rate is 25-30%. A person can create an email or own multiple abandoned emails addresses.
A re-engagement campaign works with that very fact and focuses on purifying your list. Remember that inactive "subscribers" who do not open your emails can negatively affect your delivery rate.
Need to chat about your email campaign strategy?
More than 10,000 marketers use Maropost to engage with their prospects and customers through customized email campaigns. We're here to help you growing your business!
Chat Now