eBay is truly an online shopping destination like no other. It has almost 12 million visitors every month, and two out of every three Australian adults having bought something on ebay.com.au in the past year. An estimated AUD $15.7 billion of automotive parts and accessories is sold globally on eBay each year*. Half of all automotive parts buyers have at least one vehicle in their eBay Garage.
"A car or truck part sells every 3 seconds on ebay.com.au"
* Derived from https://au.oberlo.com/blog/ebay-statistics and eBay Inc published financial reports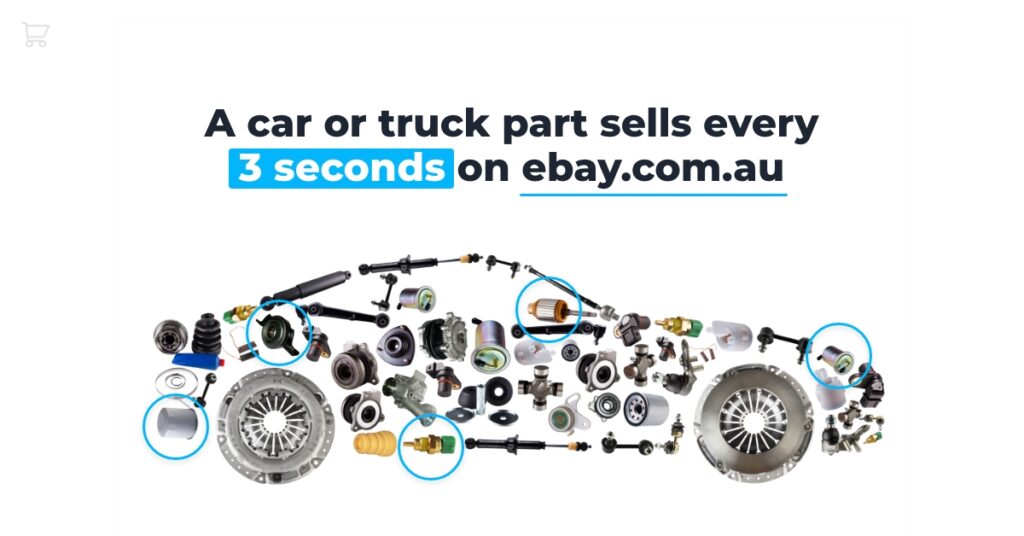 Buying car and motorcycle parts or accessories online can be daunting. To start, shopping online is radically different from ordering a part over the counter at a motor dealership where the customer can interact in real time with a parts interpreter. Accuracy is much more accurate online though. If a customer can easily find their specific model and then only see parts and accessories that fit it, they are far more likely to purchase.
"Adding fitment to your eBay listings can boost sales by over 40%*"
* Based on year-to-date average of conversion rate using part finder versus without, as at 25 July 2021
What is fitment?
Fitment is the process of tagging products to the vehicles or motorcycles they are compatible with. It can be a tedious and time-consuming task and relies on information being available to confidently identify the correct compatibilities. A body panel may fit all sub-models of a particular vehicle series, but a fuel line component might only fit the specific motor and fuel injection system of a small subset of those vehicles.
Compatibility fitment on eBay
eBay has a master fitment protocol in place for sellers to tag compatible cars or motorcycles to the automotive products they are offering for sale.
Entering a make or model in eBay search triggers the buyer-side fitment experience, prompting them to select their specific vehicle or bike and save it in their eBay Garage for quick recall in the future. Once a customer selects a model, they will only see listings tagged to that specific model and not listings without fitment. Even if you've already deployed a fitment protocol on your own webstore, you will still need to separately tag your products to eBay's master vehicle list if you want your listings to be included in these search results.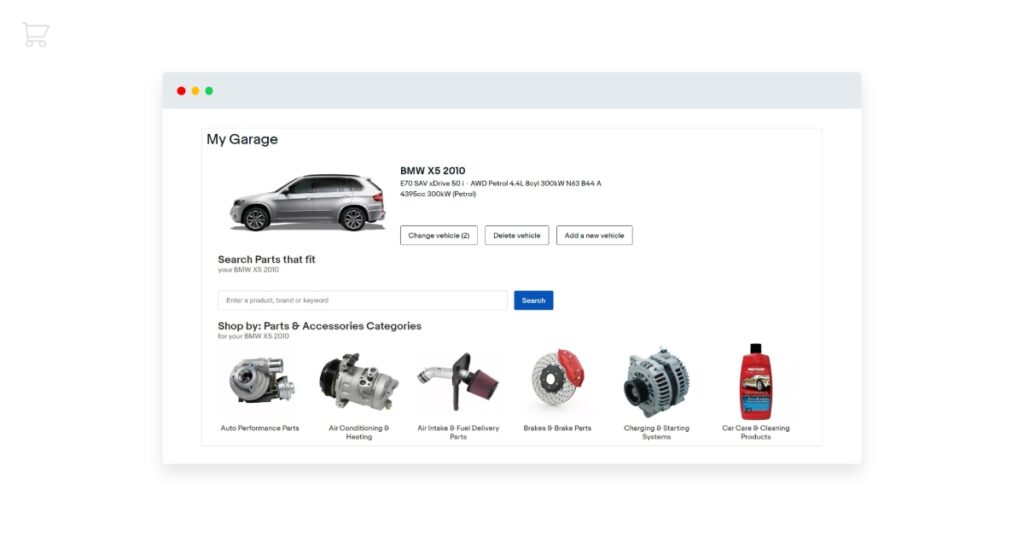 You can instantly see the benefits of applying fitment to your eBay listings – just search for your products in eBay search. Your listings will now be included in the search results while listings without fitment for the buyer's selected model are excluded. eBay also adds the specific model to your eBay listing title to boost buyer confidence.

The compatibility table in your tagged eBay listings further confirms whether it is compatible with the specific vehicle they selected.
Accurate fitment of automotive products on your eBay listings will boost your buyer confidence. This means that they will be far more likely to buy, spend more and even come back for more. Adding fitment to your eBay listings can also boost P&A sales by over 40%.
eBay Garage for instant access to compatible products
Buyers have registered around 1.5 million vehicles in eBay Garage*. This gives them instant access to compatible products without the hassle of needing to search for them. By adding fitment to your listings, you are helping buyers find your listings faster and more convenient.
* eBay.com.au only, 20 million registered cars in Australia as reported by Australian Bureau of Statistics, January 2021
How to apply compatibility fitment to your eBay listings
To work with eBay's part finder and My Garage features, your need to assign you automotive products to this six level hierarchy:
Make > Model > Year > Submodel > Variant > Engine
To ensure your fitment is valid, tag your automotive product listings to the fifth level (variant) at the very least.
There are two ways to apply fitment to your eBay listings:
1. If you are selling prominent automotive branded products such as Bendix, Brembo, Bosch, Exedy, Monroe, Penrite, VDO and Yuasa, just publishing the brand and UPC/EAN to your listings will prompt eBay to automatically tag all compatible models. That will save you a lot of time.
2. For less popular brands, unbranded or your own branded products, you will need to manually tag each product to all compatible makes and models.
Secure eBay fitment via Maropost Commerce Cloud
Since fitment data cannot be exported from eBay, you should retain full control over all compatibility data by hosting fitment tagging records in an independent Product Information Management system (PIM) which is integrated with your eBay store. This way, if any of your eBay listings end, you won't have to redo the tagging and can simply relist them with fitment intact.
Maropost Commerce Cloud is the only ecommerce platform in Australia with a native integration to eBay. Other ecommerce platforms require a third-party middleware solution to communicate with eBay. Since the tagging data needs to reside with your core SKU records and then flow directly into your eBay listings, Maropost Commerce Cloud is the ideal platform for deploying eBay fitment. That's one of the reasons why Maropost Commerce Cloud is the #1 preferred platform by automotive product sellers on ebay.com.au.
Tagging your products to their compatible models
Before you can store your compatibility data in Maropost Commerce Cloud SKU records, you need to first tag them. ZELLIS Auto was created to do precisely that, and fast.
ZELLIS Auto is a multi-faceted solution to the challenges of automotive fitment for eBay and webstores. After manually tagging tens of thousands of vehicles for their clients, the team at ZELLIS figured there had to be a faster and more reliable way. So they developed their own platform that slashes the typical time required for tagging by 90-95%. With their system, you can now do in a single day what it would normally take an entire month to complete.
Best of all, ZELLIS Auto is fully integrated with Maropost Commerce Cloud and offers the most efficient method of tagging your products to the cars and motorcycles they fit.
How does ZELLIS Auto work?
Through ZELLIS Auto, you will be accessing eBay's Master Vehicle List for passenger cars and motorcycles so you can tag your products efficiently and accurately. Search by SKU, brand or browse your SKUs. Where products are compatible with the exact same models, replicate the tagging in seconds. Completed tagging is then added to your Maropost Commerce Cloud SKU records and published to your active eBay listings the next time they revise. As a part of the initial setup, the ZELLIS team will double-check your eBay integration with Maropost Commerce Cloud and advise on any issues that may impact automotive fitment.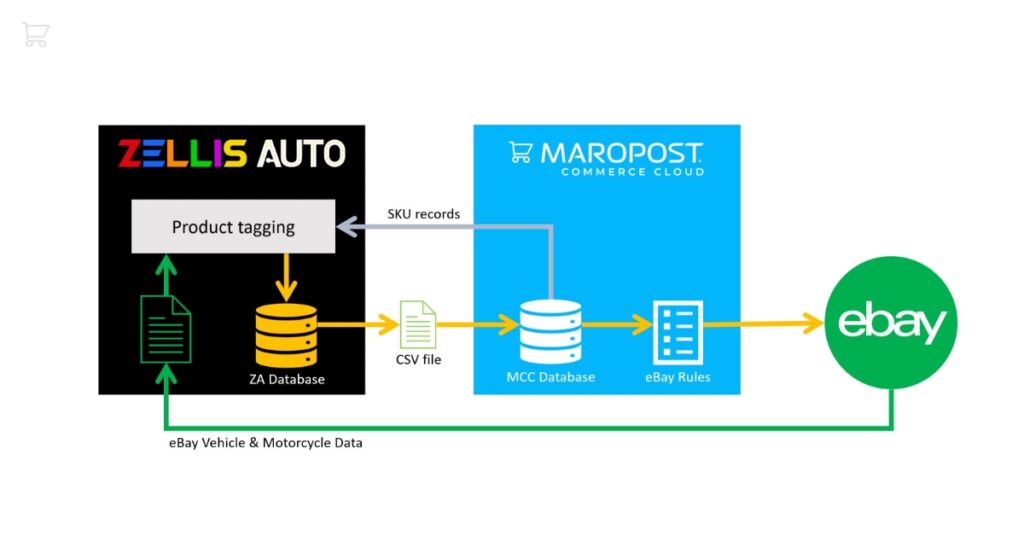 Benefits of deploying vehicle fitment on your eBay listings
Tagging products to the specific vehicle or motorcycle models they are compatible with has many benefits:
Dramatically increase customer confidence
Reduce burden on pre-sales support
Improve sales conversion
Boost customer spend
Sell more higher priced products
Generate more repeat business
Reduce returns due to incorrect parts being ordered
Start tagging products today to save time and increase your sales! To help get you started, Zellis is offering two special deals. They're only available for a limited time, so get started today!
Wanna chat about your ecommerce strategy?
More than 10,000 marketers use Maropost to engage with their prospects and customers through emails, SMS, social media and more. We're here to help you grow your business!
Chat Now