Welcome email campaigns are your first step to establishing a lasting relationship with contacts. According to a 2015 report by Return Path, they have an average read rate of 34 percent—that's 42 percent higher than the average rate of 24 percent for all other emails.
Here are the eight ingredients you need to create a quality welcome email that converts leads:
1. Clear Brand Promise
The most important ingredient: Clearly state how your new subscribers can benefit from your product or service.
A few tips on what to consider when delivering your brand promise or value proposition:
Clarify: State your brand's promise in a straightforward sentence.
State the Benefit: Answering the burning question — "How will my product solve a customer problem?"
Differentiate: The competition and your customers must know what sets you apart.
You may also want to consider making a short, three-point walkthrough or a video on how to start using your product or service.
2. Clear Value
If you want your customers to take immediate action, then do them a favour – why not offer something of value? In addition to highlighting great offers through email, consider segmenting your email lists before sending your welcome message.
A great way to segment contacts is by their current position in the sales funnel, followed by offering a promotion that is hard to pass up:
Offer an extended product trial to the bottom of the funnel (BOFU) leads who have shown strong interest in your product or service based on their high activity during the trial period.
Provide a discounted rate to the middle of the funnel (MOFU) leads who have signed up for MOFU content like an in-depth webinar.
Offer a freebie to top of the funnel (TOFU) prospects who may have left their contact info incomplete on a landing page of TOFU content like general white papers and ebooks.
[sc name="guide-IntegratingMarketingCommerce"]
3. Action
Now that you've defined your value proposition and offer, take a look at your call-to-action (CTA). Do you want them to "Sign Up," "Log In," or "Download?" Be clear on what you want your customers to do after they've read your welcome message.
A general rule of thumb is to place the CTA somewhere after the initial pitch and repeat near the end. Be sure it's clear, concise, and visually appealing so it compels the reader to clickthrough on your CTA.
4. Sender
Sending emails from a no-reply address is no longer encouraged. Consider sending your messages, especially welcome messages, from a personal email address and add that person's email signature at the bottom with their contact information. This shows the reader there's a representative of the company to communicate with on a human level.
5. Clear Branding
Plain-text email campaigns are becoming increasingly popular. In fact, emails with fewer HTML elements are more effective in terms of clickthroughs among other metrics.
Plain text emails are the most mobile-friendly and less likely to be blocked by email service providers. However, you will still want to play around with your header and footer, signature, logo, and font to clearly convey the brand message in your welcome email.
6. Straight-to-the-Point Subject Line
While it's been mentioned that welcome messages are opened more often, it really comes down to how effective your subject line is. This is because 35% of email recipients open emails based on the subject line alone.
You can't go wrong with using "Welcome" in the subject line. You can also personalize your email sends by adding the recipient's first name, such as "Welcome to PureB2B, Scott!"
7. Personalized Greeting and Message
While welcome emails are almost always automated, you can still personalize so your recipients don't feel like they're speaking to a machine.
As PureB2B puts it: "Give them personality, sass, and don't forget humour. Automated email campaigns usually sound generic or like a robot wrote them. Be better than that. Write an email that you'd want to read and watch your clickthrough rates soar."
8. Unsubscribe Option
It may sound counterintuitive, but as you onboard new subscribers, you must give them the option to unsubscribe. Leading email service providers automatically include an unsubscribe link in your campaigns as required by CAN-SPAM (US) and CASL (Canada).
Adding an unsubscribe option allows you to craft effective email campaigns and cleanse your email list. If a contact unsubscribes, ask them why they want to be removed from the mailing list, so you can receive feedback and make necessary adjustments.
Just like any recipe you find online, you can follow it by-the-book or swap some ingredients listed above for desired results. Regardless of your industry, the goal of your welcome email is to engage new subscriber with a smile.
Sign up for Maropost for Marketing to utilize our email marketing personalization feature, and increase your email deliverability rate.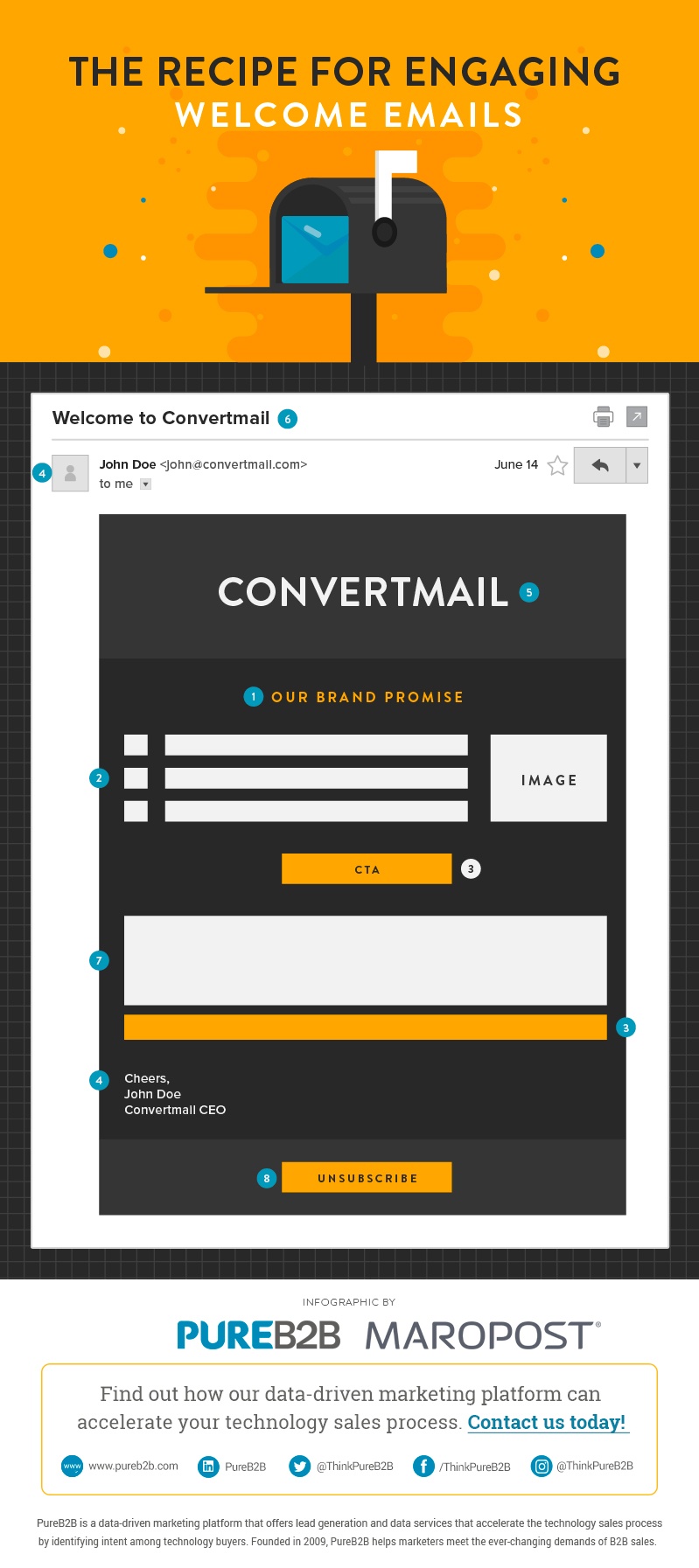 Jomel Alos is the Online PR Strategist for PureB2B and Spiralytics. PureB2B is a lead generation and data services provider that helps numerous B2B companies accelerate their technology sales process.
Need to chat about your mobile marketing strategy?
More than 10,000 marketers use Maropost to engage with their prospects and customers through emails, SMS, social media and more. We're here to help you growing your business!
Chat Now