The e-Commerce industry is a multi-billion dollar one that is always expanding. There has never been a time in the history of mankind where more people preferred to purchase products or services online. As such, now is the best time to be a part of the industry.
The potential rewards that you stand to enjoy as an e-commerce business owner is practically unlimited. The internet is a platform that allows you to sell your products or offer your services to anyone anywhere in the world.
Ecommerce and Marketing
Running an e-commerce business all by yourself is typically a tedious endeavor. The many tasks that running an e-commerce business entail: social media management, content creation, marketing, customer service, order fulfillment, and so on can easily overwhelm you.
As your business expands it is easy to be inundated. Automating your email marketing will help you do more with less effort. Many tasks that would normally require your presence will be put on autopilot and you will have more time to strategize on how to scale your business.
Here are some tips on how to scale your e-commerce business with email marketing automation: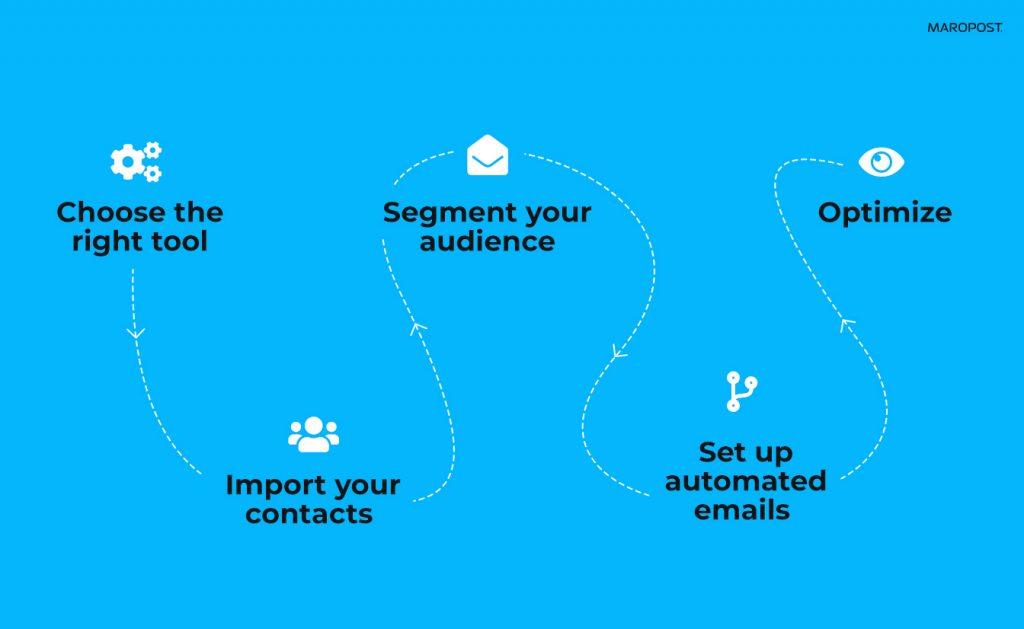 Choose the right tool
The very first step is to select the right tool for your e-commerce business. There is a myriad of email automation tools out there and each of them has its strengths and weaknesses.
These email marketing automation tools offer a wide variety of features including customer profiling, email templates, email campaign reporting, analytics, CRM platform, and website integration and so much more.
With just a little research, you should be able to find the right tool for your business. You can simply look for the tool whose features best match the needs of your e-commerce marketing strategy.
Import your contacts
Once you have chosen the right tool, the next point of action is to add all your contacts. Most of the email automation tools out there will allow you to seamlessly import your contacts from a file.
An alternative when you don't have your contacts in a file is to connect your email automation tool with your e-commerce website. The process is usually pretty straightforward and can be completed in a matter of minutes.
Segment your audience
Audience segmentation is one of the most important steps to take if you intend to scale your e-commerce business with email automation. You must understand that your customers are not all the same and make provisions for their dissimilarities.
Your customers will fall into different segments depending on your business, the products or services your offer, where they are located in your sales funnel, gender, location, and so many other variables. As such you must painstakingly identify all the various segments that apply to your scenario and group your customers accordingly.
Set up automated emails
After sorting your target audience into unique segments you will have a better understanding of what each segment requires. The various characteristics of each segment will guide you on how best to address their needs.
You will have to carefully create unique content for each of the segments. This content creation can sometimes be a very time-consuming activity but it is a very crucial step that cannot be rushed. You must take your time to develop personalized messages that will not only capture the attention of your target audience but also motivate them to take actions beneficial to your business.
Once you have finished the process of content creation, you will then use your preferred tool to automate the delivery of the emails based on the preference of each segment. There will be segments that prefer to read emails in the morning, there will be others that respond better to images, new customers will require welcome emails while another segment of customers need cart abandonment emails.
You should ensure that you meticulously set up the automated emails so that every single customer receives only emails that are relevant to him/her at the right time. Perfect execution of this step is paramount to successfully scaling your e-commerce business with email automation.
Optimize
Optimizing the process is the final step. As a responsible e-commerce business owner, you must pay close attention to your results as your business expands. Several of the email marketing automation platforms come with analytical tools that you can use to assess the performance of your emails. 
It is highly recommended that you regularly analyze the data so that you can identify the strategies that worked and those that didn't. This data should guide you when drawing up future strategies so that you can maximize your results. 
Need to chat about your email marketing strategy?
More than 10,000 marketers use Maropost to engage with their prospects and customers through emails, SMS, social media and more. We're here to help you growing your business!
Chat Now