Podcasting is on its way to becoming one of the biggest growth channels for businesses in 2021. In fact, as of 2020, over 55% of Americans have listened to a podcast, and podcast fans listen to 6 episodes per week on average.
With many businesses and thought leaders already taking advantage of this medium, now is the year to get in. Those that commit to this medium will boost their authority, reach new networks, and ultimately generate more new business.
In this article, we're going to share what Content Allies (who published 400+ podcast episodes for B2B companies) learned about how to use podcast networking as a growth channel in 2021 and beyond.
Build relationships and network with B2B prospects and partners
For B2B companies and leaders, podcasting is more about networking than building an audience. While the audience is part of the equation, it's a byproduct of discussing useful and relevant topics with other leaders in the field.
The real value of podcasting is in your ability to start conversations and build relationships with:
Prospects
Strategic partners
Influencers
Event and conference organizers
Podcasting is a new form of prospecting that allows you to create value for both parties. Instead of sending cold sales pitches to prospects, you invite them onto your podcast which has a much higher response and conversion rate.
These numbers make sense because you're not trying to sell prospects something, you're offering them free exposure to a larger network. You're also giving them a platform to boost their authority in their given field of expertise.
This mutually beneficial relationship builds trust, and if your prospects are ever in need of your help, you'll be top of mind. In our experience, 5-10% of podcast interviews will turn into a referral or customer relationship.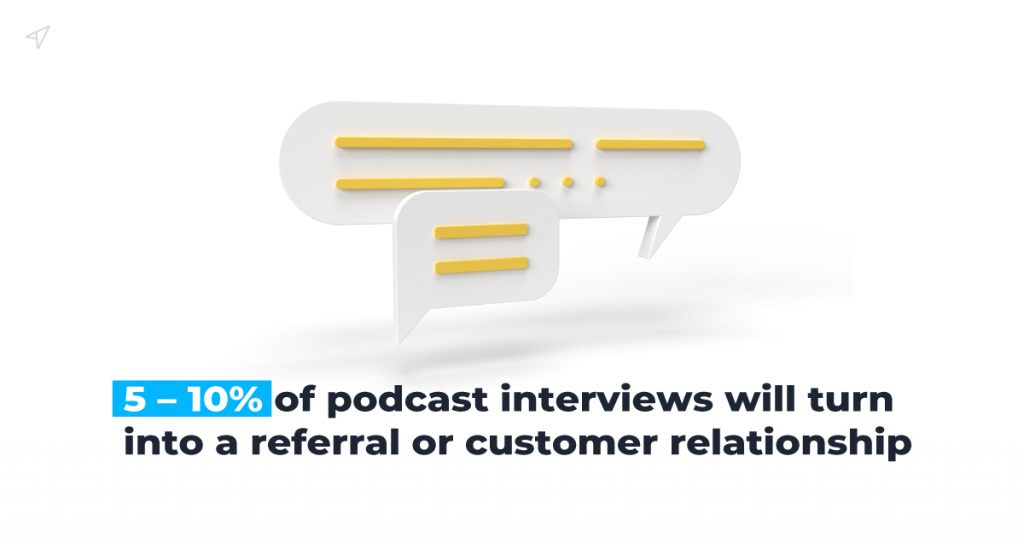 Position yourself as a thought leader
Podcasting has the power to boost your thought leadership status much faster than other methods. It gives you the chance to handpick respected leaders in your field and showcase their unique expertise through your platform.
Furthermore, by simply conversing with other experts and thought leaders on your podcast, people will associate their expertise with your brand.
Continually surrounding yourself with other thought leaders will elevate your own knowledge while strengthening the appearance that you are a thought leader yourself. In the beginning, you may feel like you're out of your league, but it won't take long until your brand becomes a respected voice in your industry.
Once your peers and B2B prospects value you as a thought leader, you begin to reap the rewards of this new status.
All of your outbound efforts and other marketing tactics have more power because you have a respected platform. New business also tends to find you without a ton of additional effort.
Leverage new speaking & PR opportunities
In many cases, if those you interview enjoy the experience, they'll likely invite you to be a guest on their podcast or to speak at one of their events. These relationships further enhance your credibility and reach.
Though some of these people won't turn into customers, the opportunities they provide will prove to be highly valuable.
Here are a few examples of potential relationships:

Podcaster or Influencer – When someone you interviewed invites you on to their podcast, it opens up a new network of people for you to reach and influence. When these people have a large following, your exposure is multiplied.

Event or Conference Organizers – By interviewing an event organizer, you become top of mind as a possible speaker at one of their industry-specific events. You may even be asked for your input on themes or presentation ideas.
Associations – By nurturing your relationship with an association leader, there may come a time when your insight could bring value to their network. Opportunities like content collaborations and webinars could be a great way to strengthen your mutually beneficial relationship.
Nurture your audience & inbound leads
Once you've been hosting and sharing podcast episodes on your social channels for a few months, you'll start to gain traction with a larger audience. As mentioned previously, building an audience comes as a byproduct of successfully networking with prospects and other thought leaders. An audience is an important value driver, but typically won't be your main source of new business.
The best part about inbound leads from podcasting is that a majority of these leads will be eager to learn more about you and your offerings. By holding someone's attention for 30-60 minutes through a podcast, these listeners are much more engaged with your brand than someone who just skimmed a blog post from your website.
With people consuming more content than ever before due to the pandemic, it's also possible for listeners to binge on your content. The more they listen, the more they trust and form a connection with your brand.
Don't be concerned if inbound leads aren't reaching out in the early days of your podcast, this is natural. You have all the other value drivers we've talked about working in your favor until your ideal audience is familiar with your content.
Repurpose your podcast to amplify exposure on other channels
When you're creating consistent podcast material, repurposing that content for social channels becomes a breeze for you or your team. This ensures you always have a supply of shareable content that highlights your expertise and drives more traffic to your show.
One interview can be repurposed in many different effective mediums including:
Blogs
Articles
Audiograms
Video content
People love content that's easy to digest, and repurposed content from podcasts is great for this purpose.
The key is to always focus on delivering maximum value in order to boost and uphold your reputation as a leader in your industry.
Partner with a team of experts to streamline the creation process
The one thing that holds many people back from launching a podcast is the work involved. If you try to tackle podcast creation yourself, it can get quite tedious. There are many moving parts that you're likely not an expert at which can hinder the process before you even start.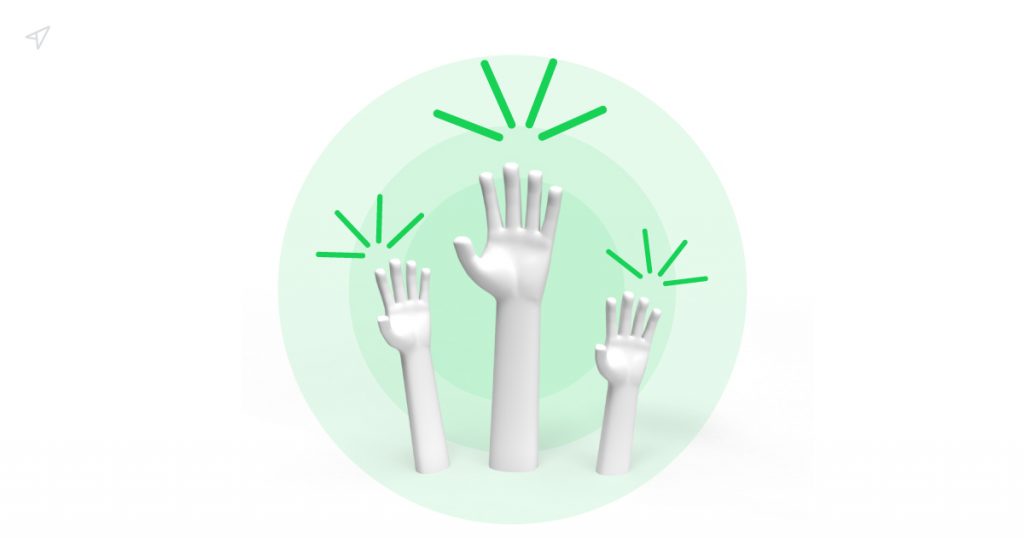 Luckily, there are vendors out there that are experts at podcast creation and promotion.
These teams can handle all the elements of a successful podcast including:
Guest outreach
Recording
Editing
Writing show notes or transcription
Uploading
Promoting on social channels
When you work with a team in this way, you get to just focus on hosting great interviews without getting bottlenecked by all the details. Businesses and leaders that have found success with podcasting rarely tackle it alone.
Need to chat about your mobile marketing strategy?
More than 10,000 marketers use Maropost to engage with their prospects and customers through emails, SMS, social media and more. We're here to help you growing your business!
Chat Now