1. Introduction
Do you dream of starting your own business one day? If you've always wanted to know how to create an online store with Amazon, you have come to the right place. The ecommerce business has been growing exponentially over the years and getting into the field is more straightforward than it looks. This walkthrough will detail all the steps necessary to start selling on Amazon.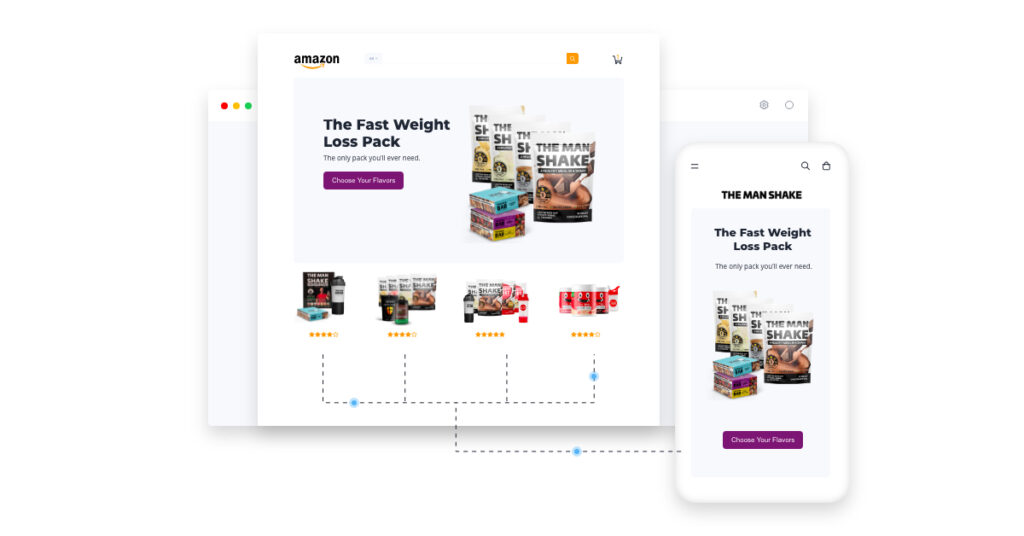 2. How to start selling on Amazon
○ Amazon's potential (numbers)
It's no secret that Amazon is a massive ecommerce platform. The site has over 300 million active users and services in more than 180 countries. There is so much potential for sellers on Amazon to create a successful online store. Whether you choose to sell a product already listed or have a new item of your own, online retail with Amazon is a viable income source.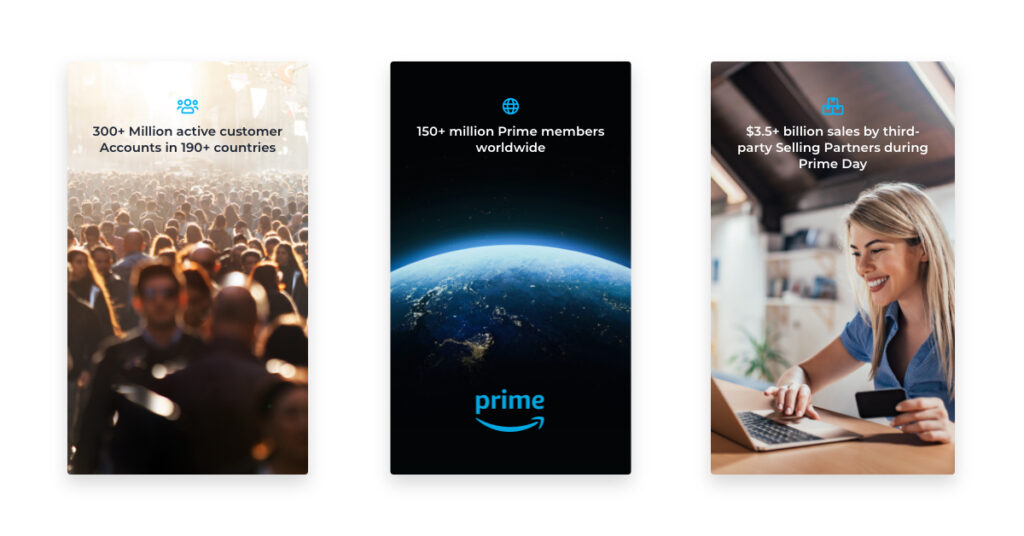 ○ Register & pick a plan
To get started, you first have to create an Amazon seller account at sell.amazon.com. After you create your account, you need to choose from an individual account or a professional account. If you are just starting and expect to sell less than 40 items per month, an individual account may be better to start. With a professional account, you access APIs, reports, and programs such as Launchpad and Handmade.
An API is an Application Programming Interface, and this system allows two or more applications to communicate. For example, you can create an API that automatically ships your product from FBA when an order is placed.
Launchpad is a program that helps sellers boost their online stores.
Handmade is a store within Amazon that features handcrafted products.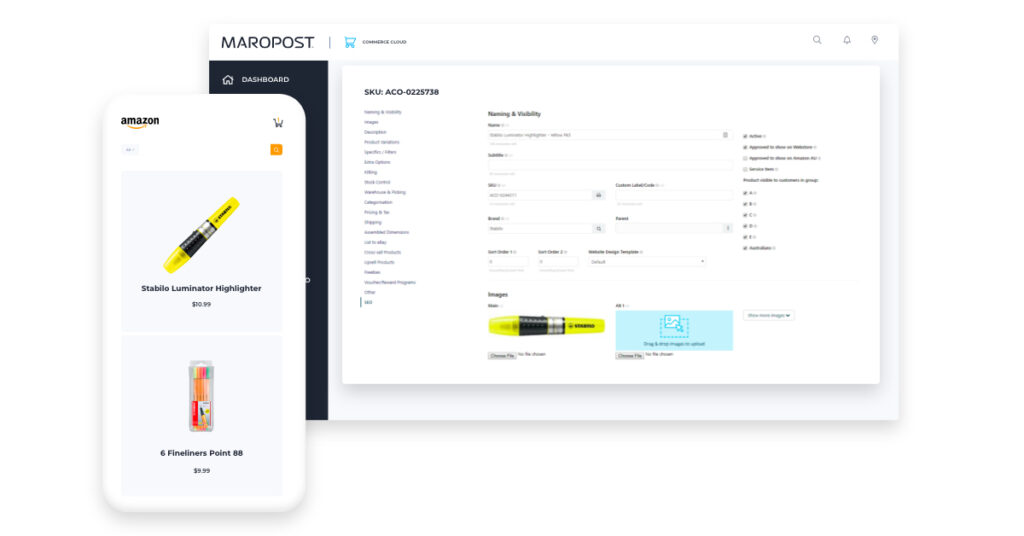 ○ Features (seller central)
Once signed up, you can access Seller Central – your personal dashboard where you have everything you need to sell your products on Amazon. Seller Central is also where you can see your orders, add products, manage payments, download reports, and more. You can also access Seller Central from your smartphone with the Amazon Seller App.
3. How to sell stuff on Amazon
○ How to list products
There are two ways to list a product on Amazon. If your product already exists on the marketplace, you simply match an existing listing. If it does not exist on the platform, you will have to create a new listing. You can bulk upload product listings or create a new listing for each item. Once listed, it is automatically available to all Amazon shoppers.
○ Product detail page
The product detail page is where a customer can see all the information about the product you are offering. There are five fields you need to input for each product. They are SKU, product title, description and bullet points, images, and keywords. You want to make sure you have high-quality photos of the product and content that is easy to understand. The description should tell the customer more about the product and convince the customer to purchase. The bullet points should have all the details about the product so the customer can make an informed decision. Lastly, optimized keywords are how customers will find your product. For example, if you are selling a black phone grip, you want to include keywords that a customer would type in the search bar to find your product: phone grip, black phone grip, phone holder, iPhone holder, etc.
○ How to deliver products
You can deliver products on Amazon in two ways. You can manage all inventory and ship products yourself, or you can choose Fulfillment by Amazon (FBA). With FBA, all you have to do is send your products to an order fulfillment center, and they will take care of packing, labeling, and shipping. When you use FBA, Amazon Prime members can shop your products and receive them faster. Being eligible for Amazon prime will favor your product over others. The con for opting into FBA is that there is an additional cost to hold your inventory. Read the next section to find out more.
○ Managing business and tracking performance
You've got your products delivered, and now you need to analyze your performance. Keeping track of your metrics is essential to the success of your Amazon store. You can see your performance and make sure you are hitting your business goals in Seller Central. As your brand on Amazon continues to grow, you want to make sure you practice good customer service. Responding to customers' questions and managing delivery errors are essential for your overall metrics.
4. How much does it cost to sell on Amazon
○ Subscription fees
As with most businesses, there is a fee to sell on Amazon. The costs of sales on Amazon differ depending on the account you have. For an Individual plan, there is a flat-rate fee of $0.99 on each sale. If you have a Professional plan, you simply pay a fee of $39.99 each month. If you plan on selling less than 40 items per month, an Individual plan is a better option to begin with.
○ Selling fees
Selling fees vary based on the category and the price of the product. The selling fee is a combination of three different fees:
Referral Fee – This is what the seller must pay for each item, which is a percentage of the total price, usually between 8% and 15%
Closing Fee – This is a $1.80 fee, and it applies to media categories such as books, video games, movies, etc
Individual Fee – Sellers with an individual account pay a $0.99 fee for each sold product
○ Shipping fees
If you ship your orders, the buyer pays a fee depending on the selected shipping service and the product category. Sellers with a professional plan can set their own shipping rates, but sellers with an individual plan cannot.
If you have an individual plan, these are the set shipping rates:
Video games, software and computer games – $3.99 for standard shipping and $6.99 for expedited shipping
All other categories:

Flat rate of $4.49 plus $0.50 per pound for standard shipping
Flat rate of $6.49 plus $0.99 per pound for expedited shipping
○ FBA fees
For products that are FBA, there are fees associated with shipping and storage. The FBA fee varies on the size and weight of the product.
Here is an example of what your profit would be if you sold a small piece of jewelry that cost you $10 and you listed it for the price of $30. In this example, the referral fee was $6 which is 20% of the sale price, meaning the referral fee was 20%. This item was also FBA which added $2.70, making the total profit for this item $11.30. This calculator can be accessed at https://sell.amazon.com/pricing.html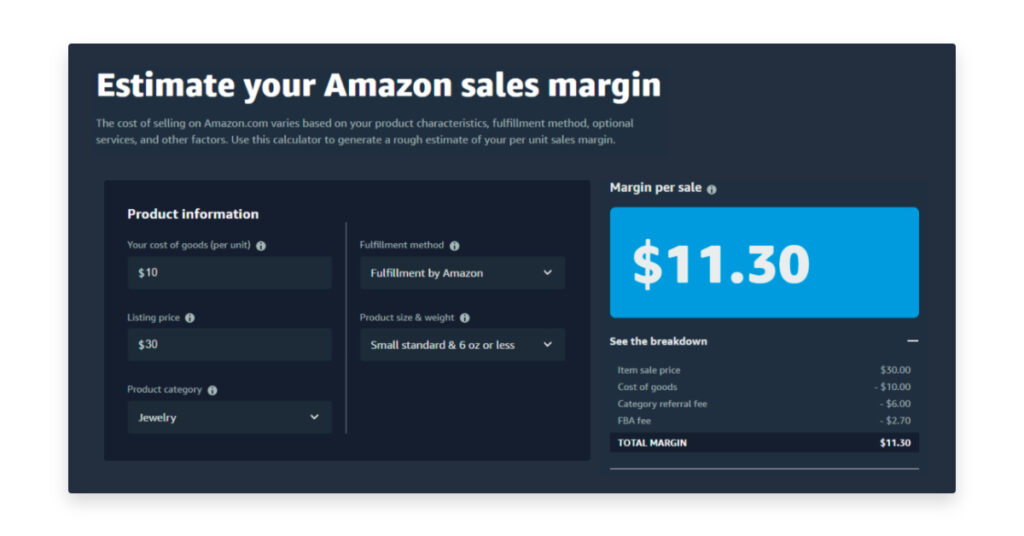 5. What to sell on Amazon
○ Research shipping fees and seller fees
Now that you know how to start selling on Amazon, you want to know what to sell. To determine this, you have to do some digging. Smaller items generally will be less expensive to ship than heavier items. You might want to start with smaller items or apparel since it will have a lower initial cost.
○ Manually check Amazon.com for similar & recommended products
Depending on what you decide to sell, you want to continue checking Amazon to see items in your specific category and see what products get recommended with your product. Here is an example. If you list a dog bowl for sale, search Amazon for dog bowls and see how these compare to your listing. While researching, you might see a dog leash appearing in the recommended products. This indicates that you should also consider adding dog leashes to your online store. 
○ Find a niche – a gap in the market without too much competition
With the massive selection Amazon has to offer, your best route for success is to find a specific need that is not completely satisfied – a space that isn't overly saturated. People check Amazon for everything, so don't worry if your niche seems obscure.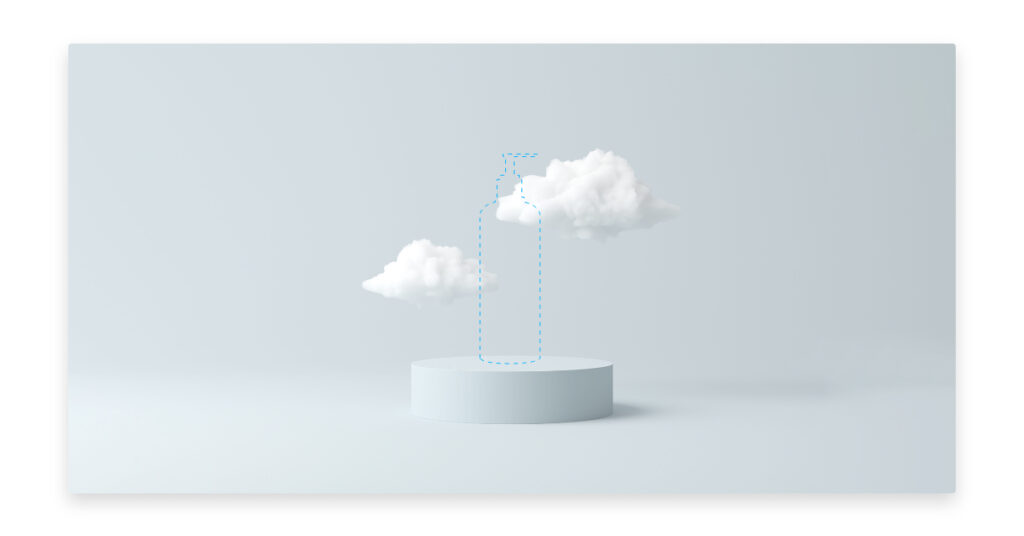 ○ Search for categories with at least three results with Best Sellers Rank
Studying the best sellers page will give you a good idea of what people are buying. If you see a Bluetooth speaker, wireless camera, and vacuum, it's safe to assume that electronics are a top-selling category.
6. Top selling items on Amazon
○ Books
Selling books on Amazon can be done in a few ways. There are options to sell used textbooks, self-written ebooks and more. Typically, when selling an existing book, you need to list the International Standard Book Number (ISBN). If you desire to market an ebook you have written, you can self-publish it with Kindle Direct Publishing.
○ Clothes, shoes, and jewelry
Most people agree that hopping online for apparel and accessories is more convenient than going into a store. Selling clothes on Amazon is an excellent place to start because the cost of shipping apparel is lower than in other categories. Finding these products on Amazon is much easier because the items often have reviews, and buyers sometimes submit images of themselves with the product. Customers can make an informed decision and complete their purchases. Prime members can also take advantage of Prime Wardrobe – a service that allows them to try out select apparel for free, and they only pay for what they decide keep. The items that did not work out can be returned for free within the 7-day try-on period.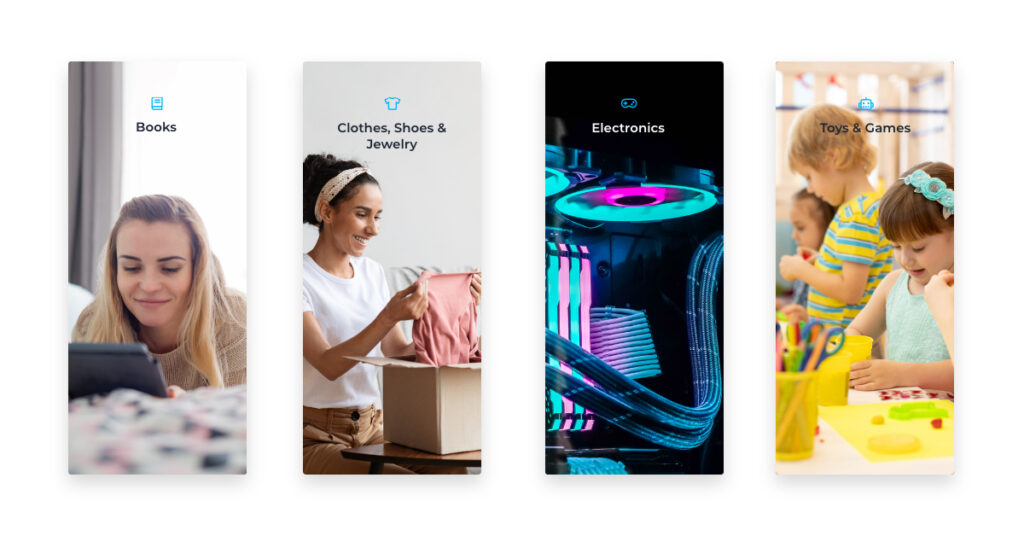 ○ Electronics
In this day and age, we have electronics everywhere. Amazon also has its line of electronics that includes the Echo Dot, Fire TV Stick, and Kindle e-readers. This category is probably harder to get into as a new seller because the best-sellers are from larger companies. You can still capture some of the market by offering electronic accessories like chargers or storage devices.
○ Toys & games
Toys and games are constantly being released throughout the year, making them a large category on the platform. Sales on Amazon for toys and games are the highest during the holiday season. Every year, the company puts out the Holiday Toy List, which features the most popular toys and games. Amazon makes it easy to gift toys and games by offering gift wrapping options at checkout for eligible items.
7. Conclusion
This how-to guide walked you through all the steps to start selling on Amazon. The key take-aways are determining whether you want a professional or individual account, if you're going to ship items yourself or opt for FBA, and finally, decide what products to sell. Once you establish yourself on Amazon, be sure to promote your offerings via social media and advertising to reach a larger audience. With proper pricing and tracking metrics, anyone can find success as an Amazon seller. Now you have everything you need to know to become a seller on Amazon.
Maropost Commerce Cloud allows merchants to easily sell on Amazon – here's how.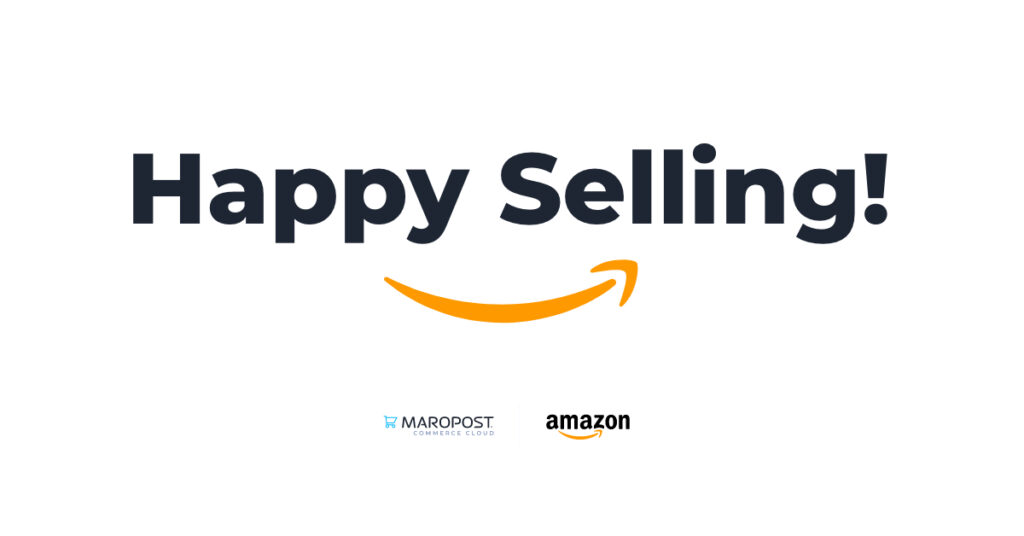 Need to chat about your mobile marketing strategy?
More than 10,000 marketers use Maropost to engage with their prospects and customers through emails, SMS, social media and more. We're here to help you grow your business!
Chat Now