The secret to ecommerce email marketing success? Having lots (and we mean lots) of email subscribers.
In the digital marketing world, nothing is as effective as a well-planned email marketing strategy. But, with customers' inboxes already full to the brim, how do you convince them to hit "subscribe" for yet another newsletter?
In this blog, we'll offer seven popular methods for quality email list growth to build your buyer audience and start generating the easiest sales you'll ever make.
Why is Email List Growth Important for Ecommerce?
There's no denying that email marketing is key for ecommerce businesses. In fact, email generates $42 for every $1 spent, making it one of the most profitable digital marketing avenues available.
Bottom line: If you're not taking advantage of email marketing, you're missing out on huge opportunities to raise brand awareness, move customers down the purchase funnel, and generate sales.
When it comes to ecommerce email strategy, list growth should be one of your first priorities. Sure, you want to make sure the contacts you're gathering are high quality and likely to convert — but you need to start somewhere. Better to have a large list of new subscribers that you can purge over time than be too selective in your original email acquisition.
As your customer list grows over time, you get more access to buyer data (crucial in the era of first-party data) and, of course, potential buyers. Don't forget to segment your lists for top performance, and you'll reap the benefits of your hard work.
7 Ecommerce Email Marketing Strategies for List Growth
There are countless email list growth strategies your ecommerce business can use. We'll touch on just a few of the most popular options below, but we encourage you to research and test out as many as you can.
Not every strategy will work for every online business, so it's on you and your team to identify which will be most successful for your target audience and vertical.
1. Offer discounts and free samples
The best way to get someone to opt-in to your emails? Give them something in return.
For ecommerce businesses, this usually means a discount code for an order or a free product sample.
You can present these offers in several ways:
Exit-intent pop-ups
In-line landing page offers
Tabs, bars and chiclets
And more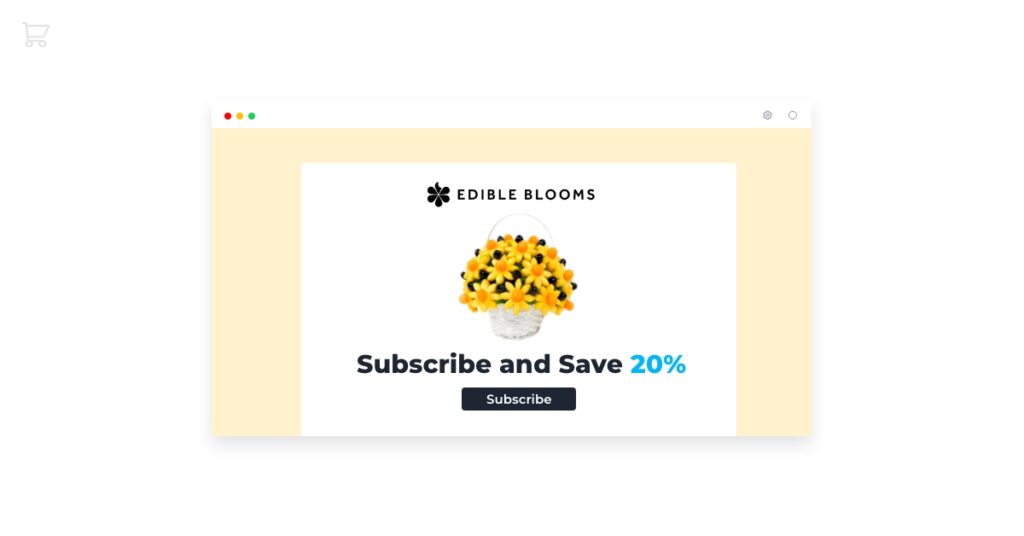 However you offer this discount or giveaway, make sure it's clear and persuasive. A/B test a few different versions of copy to find the best performer, and then deploy your sign-up forms on your homepage, product pages, and wherever else makes sense across your site. You can even advertise these samples on social media for added visibility.
A final note on discounts and free samples: work closely with your team to ensure the cost-per-acquisition for these offers makes sense for your bottom line. Don't end up giving away more than you get back!
2. Use emails for back-in-stock notifications
Many ecommerce businesses have faced supply line and availability issues for months, and there's no foreseeable end in sight.
Knowing this, you should take the necessary steps to plan for out-of-stock products from a search engine optimization (SEO), paid search advertising, and email marketing standpoint.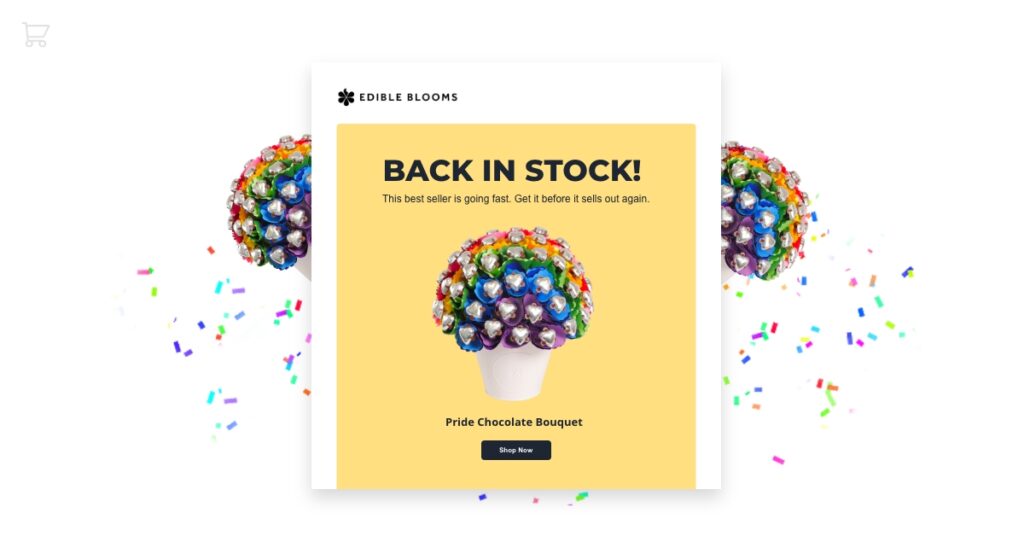 We recommend deploying "back in stock email" call-to-action buttons across your site. That way, when a customer stumbles upon your product only to find it's unavailable, you can retain their interest a bit longer with a promise to email them the moment the product is back in stock. They may end up purchasing the same product from a competitor in the meantime, but you at least have them on your list for further remarketing efforts.
3. Provide gated content offers to educate customers
If your audience's buying cycle is longer, consider offering content to guide potential customers through their shopping experience. Not all email acquisition offers have to be conversion-focused; instead, you can position yourself as a helpful resource while they're still in the early browsing stages.
For example, if you sell large appliances like washers and dryers, consider a long-form blog post or PDF guide that explains all of the products available to a customer (not just the ones that you offer). You could create a checklist of pros and cons, a flowchart to help buyers decide, or another creative idea.
Content marketing is just as important in ecommerce as any other industry, so start brainstorming ideas with your team today — and then find a way to market them attractively in return for a customer email.
4. Incorporate loyalty programs
As mentioned above, customers love free stuff and rewards. By offering loyalty memberships in exchange for email signups, you promise your customers they'll get those in spades for months to come.
Make sure your loyalty program strategy is completely fleshed out before launch. The last thing you want is customers who aren't impressed with what they've signed up for.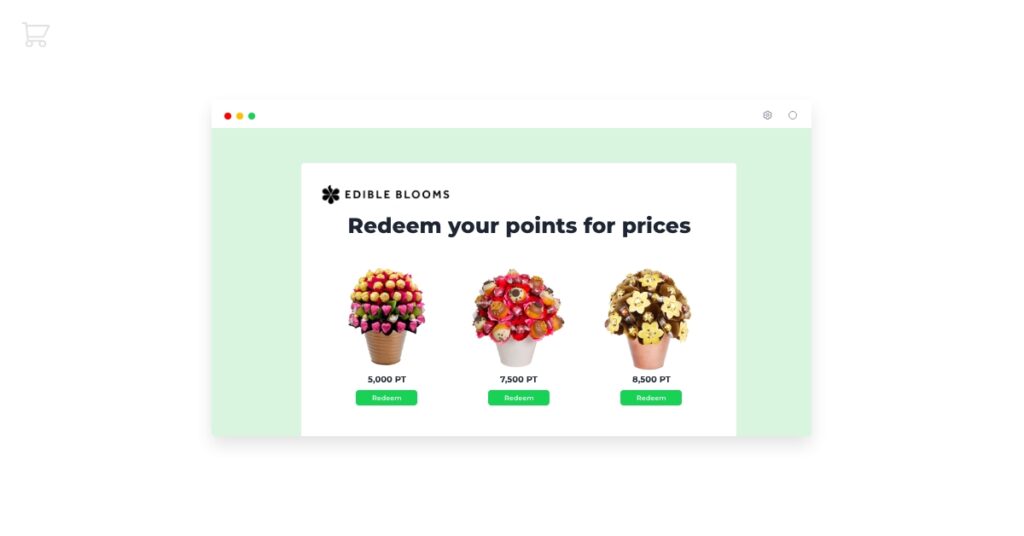 A loyalty program is a great way to further segment your customers, since those who join will likely buy more than others. These can be crucial members of your email subscriber list and should be treated as such, with special discounts and deals to encourage repeat purchases.
5. Add a product recommendation survey
For a more interactive way to build your email list, design a fun survey for your customers. This could be something as simple as "Which paint color is your fall mood?" or as complex as "Which type of laptop is best for you?"
Not only will you be gathering all kinds of customer information during the quiz, you'll also get an email address in return (to send the viewer's answers to).
Because, let's be real– how many of us can resist those fun Buzzfeed-like quizzes?
6. Remind customers to save their carts
Abandoned cart email marketing campaigns are instrumental in generating revenue — but you need to gather that "add to cart" information in order to remarket in the first place.
As website visitors are browsing your site, give them ample opportunities to save their preferences and potential orders. Every product page should include a "save for later" option (in addition to the "add to cart"), which should prompt users to either sign in to or sign up for an account at your store. Of course, they'll need to provide their email address to make that happen.
You can also incorporate similar copy into exit pop-ups, reminding them "You've left items in your cart! Save them for a later time?"
7. Prioritize email acquisition at checkout.
Finally, if you have a customer starting the checkout process, consider making email acquisition the first step. By asking for their email before any other contact information you can log their shopping cart data and browsing history within your CRM, even if they end up abandoning the checkout process later on.
This can be accomplished through an email opt-in form asking new customers to create an account when they hit the checkout button. And, as mentioned above, this is the first step to sending those abandoned cart reminder emails that motivate them to return to their purchase.
Start Building Your Email List Now for Profits Tomorrow
With so many email list growth strategies available to you, there's no reason to wait. Start implementing some (or all!) of these approaches across your ecommerce site today to gather important customer data and start boosting your inbox conversion rates.
Don't have the time or bandwidth to test out these different list-building strategies? Consider reaching out to an ecommerce email marketing agency to let expert marketers plan, launch, and evaluate the approach that works best for your business's needs.
Wanna chat about your email marketing strategy?
More than 10,000 marketers use Maropost to engage with their prospects and customers through emails, SMS, social media and more. We're here to help you grow your business!
Chat Now