When it comes to online marketplaces, shipping is one of the most important aspects of the customer experience. After all, customers want their items as soon as possible, and they don't want to pay too much for shipping. In this article, we'll teach you how to design an efficient shipping strategy for your online marketplace.
Importance of Convenient and Fast Shipping
Shipping is a fundamental part of any ecommerce business. The faster and more convenient you can make shipping, the better chance your customers will have to buy from you.
Do you know how much time it takes for someone to make a purchase on your website? One second. That's all the time they have before they move on to the next site, or worse yet, leave your site without buying anything at all! That's exactly why shipping quickly is crucial for ecommerce stores.
The average customer expects their order within 2 days of purchase (96% of customers). Just one day difference in shipping speed can cost an ecommerce store up to 7% less revenue each year.
The good news is, there are plenty of solutions available for you today! With the help of technology, it's never been easier or cheaper to ship products.
You'll be surprised by the range of prices out there when it comes to getting your product delivered – from free upfront courier delivery all the way up to express 24/7 services which can cost upwards of $500 per shipment. That may seem pricey, but if you have something time-sensitive to send out, customers will pay a premium.
Direct versus Indirect Shipping
No matter what your product is, shipping can be a big pain point. You want to make sure you're getting the best price and the fastest delivery. But how do you know which type of shipper to use – direct (straight to consumer or DTC) or indirect (through marketplaces, resellers, etc).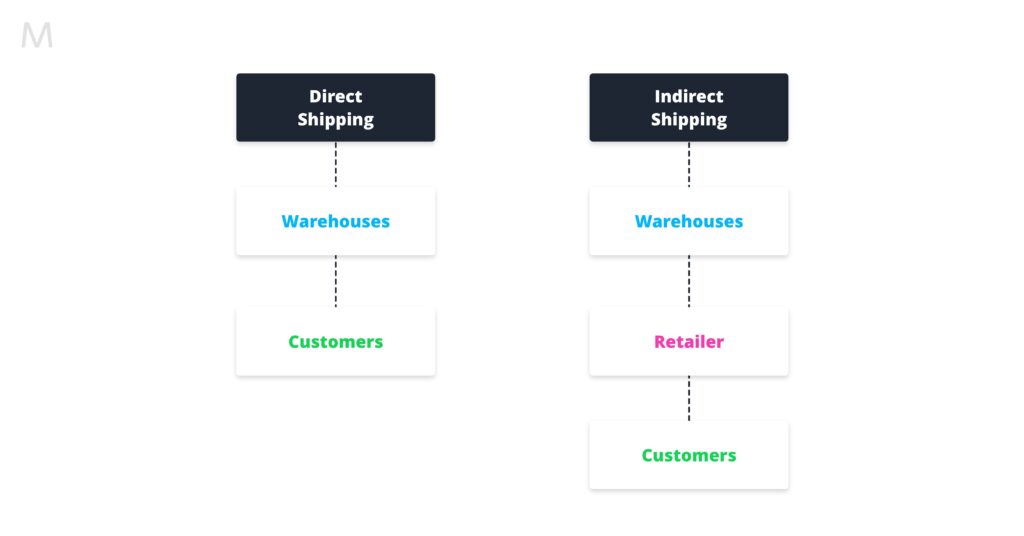 Direct Shipping: Where does your product start and end up at in its journey from warehouse to customer's front door? With direct shipping, there's no handling of goods between warehouses; all products will go straight from a warehouse to the customer. This means that, if anything goes wrong on the route, it would be easier to track down any delays or problems. It's often more cost-effective for larger or heavier products that are not easily damaged.
Indirect shipping is when a retailer ships one order to another retailer who then ships it out to the final destination. This method may be faster and cheaper because there is less handling involved in getting your item delivered, which means your customers get their product faster!
What's the best option for your particular needs? Both direct and indirect can work well depending on what you're looking for.
Local and International Shipping
Whether you're a mom-and-pop shop trying to get your business off the ground or an ecommerce giant with warehouses in all corners of the world, shipping is a key part of any operation.
Let's say that you have a marketplace where sellers can list their products for sale, but buyers are only allowed to buy from sellers within 100 miles of their location. One way around this limitation is to offer regional pricing so that buyers know what they will pay before clicking "Buy". For instance, if someone wants to purchase one product from seller A in Los Angeles and another product from seller B in New York City, they will see different prices and shipping options depending on the location they indicate.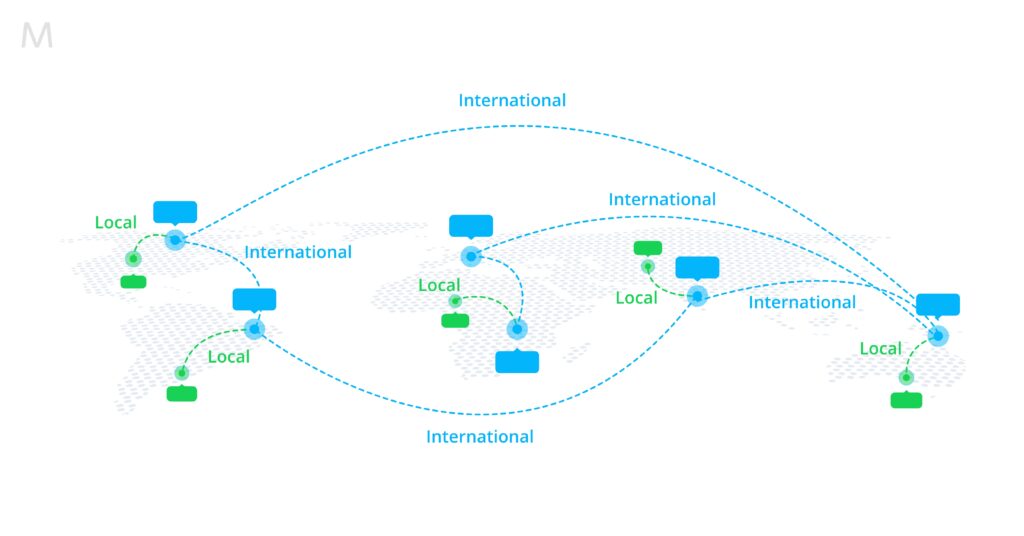 Shipping logistics can be a complex task, but here's what you can do to simplify it for you, your team, and ultimately your customers.
The most important thing is to understand your customer. If you know where your customer base is coming from, you'll have an easier time finding a good shipping company who will service those areas at reasonable prices. For example, if most of your customers are from Italy, then find a shipping company that specializes in Italy or Europe to get better deals for carriers like FedEx or UPS.
Next-day Shipping
What is the #1 thing that keeps your customers from buying? It's not price. It's not product quality. And it's not even shipping charges. The top reason for abandoning a shopping cart is slow or non-existent shipping times, according to multiple studies conducted over the past few years by both Forrester Research and UPS Consumer Reports – two independent sources you can trust.
That means if you want more people to buy your stuff, you need faster delivery speeds at lower prices to compete with Amazon Prime that currently offers free 2-day shipping on orders of $35+.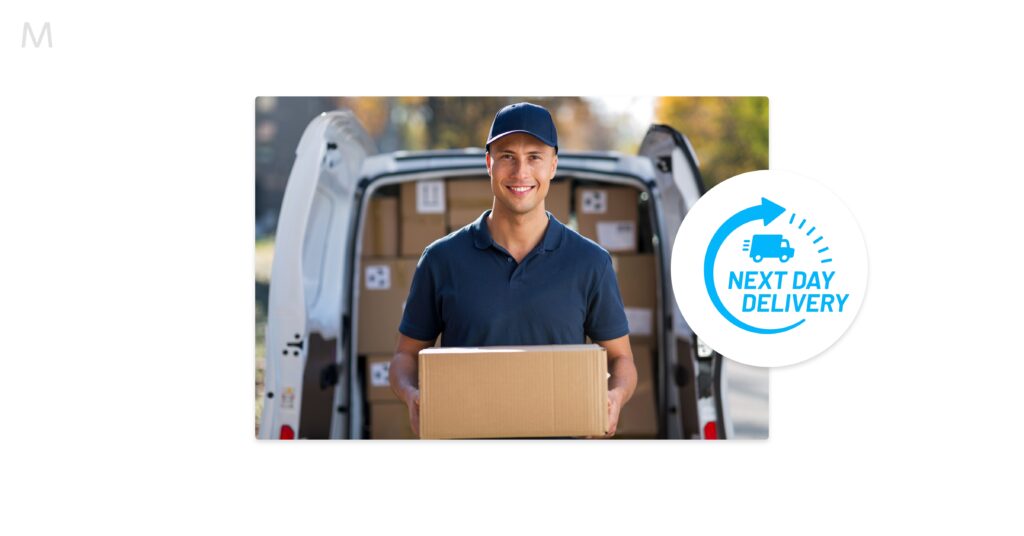 In a world where Amazon Prime is the norm, it's hard to imagine not having next-day shipping. But what about if you're an ecommerce store owner that relies on customer reviews for their business? It turns out that Amazon shoppers are more likely to leave reviews for products they receive quickly – and more of them. In fact, 67% of consumers say they would be less likely to buy from a company with slow delivery.
This means that in order for your customers to feel like you truly care about their experience, you'll need at least some sort of next-day shipping option.
Displaying Shipping Information on the Website
In today's online retail world, it is important to be competitive with your pricing. One of the most common questions is "Where should I display my shipping information and rates on my ecommerce site?"
There are three main places where you can show this info: product page, cart page, or checkout page. The decision depends on what stage in the buying cycle the customer is in when they see your prices. For example, if a customer has already added an item to their cart, then displaying shipping info there will increase conversion rates because they're committed to purchasing that item. On the other hand, if a customer hasn't yet added anything to their cart then displaying prices on the product pages will lead them down that path more quickly.
Since shipping rates vary depending on the product, the best place to display them depends on what you are selling. There are many ways to include this information and it's important that your customers know exactly what they'll be paying before they make a purchase. For example, if you're displaying products with different delivery options (e.g., free delivery, $5 for next day delivery), then it's best to show these rates next to each individual product or at the top of the page in an "additional info" section. If there is just one option available (free standard international shipping) then it can go either way, but placing it at the bottom of product pages may work better as people have more time to decide which products they want.
Returns and Refunds
It's inevitable. Customers will return items and request refunds. It's important to set clear policies and procedures for this scenario, or else you'll end up with a mess.
How do you handle returns and refunds in ecommerce? It's a question that many store owners struggle with. The good news is, it doesn't have to be complicated. When you're creating your return policy, it's important to consider the following: How will you deal with shipping costs? What if the customer received an incorrect product or has changed their mind about purchasing after receiving the item? Will you offer free return shipping for my customers? These are all considerations when setting up your policies.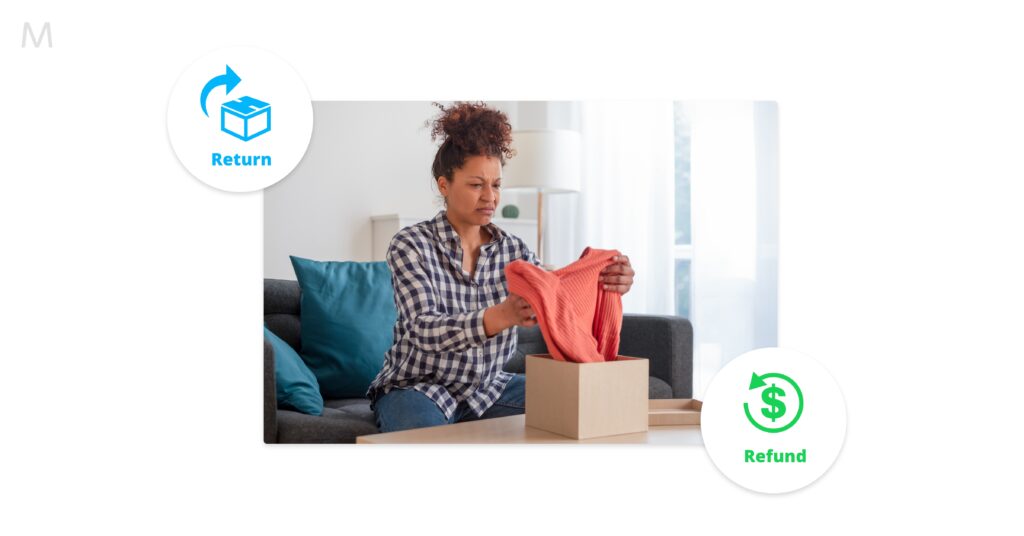 Returns and refunds can be a huge headache for ecommerce stores. The last thing you want is to have one customer cancel an order and then refund it, only to get hit with more of the same issue from another customer. You may also find that you're spending too much time on returns and not enough time on your marketing efforts.
Make sure every product has its own return policy page with clear instructions (i.e., "no questions asked," etc).
Provide customers who need help with their return an online chat option or phone number so they don't have trouble getting in touch with someone if they're lost.
How to Design an Efficient Shipping Strategy
If you're running an online marketplace, shipping is a critical part of your business. But how do you create an efficient shipping strategy? Here are a few tips: think about the types of products you're selling, consider the cost of shipping, think about direct versus indirect, local versus international and next-day shipping. Don't forget to think through your refund and returns policy and, of course, make sure your website displays all the different options. Happy shipping!
Need to chat about your marketing strategy?
More than 10,000 marketers use Maropost to engage with their prospects and customers through emails, SMS, social media and more. We're here to help you grow your business!
Chat Now