According to the latest "State of the Connected Customer" report, 84% of customers say the key to winning their business is being treated like a person, not a number. In fact, the same report finds that customers are more than twice as likely to view personalized offers as worth their time.
That's why retailers aiming to increase website conversions should look first to personalization. A personalized experience provides more value to your customers by ensuring they find what they want, quickly.
When you can offer just what your shoppers need, visitors are more likely to convert before they drop off your site. And if customers know they can count on your site to find the products most relevant to their interests, they're also more likely to return.
But true e-commerce personalization is a big task; where do you start? Here, we'll discuss three ways to convert more subscribers and sales with personalized capture forms, abandoned cart strategies, and product recommendations.
1) Convert Site Visitors into Subscribers with Capture form Personalization
Building your email list is the critical first step in your customers' email journey. Email offers many personalization opportunities, but did you know you can start personalizing the email experience before a visitor subscribes?
In fact, you can kick off the customer journey by personalizing the capture forms you use to collect email addresses. Whether you use static forms or sliding capture widgets, tailoring your tactics to individual users can increase your chances of conversion. Here are a few ways you can personalize your invitation to subscribe:
Capture form copy. Tailor your call-to-action to site visitors' behavior. For example, is a user viewing men's athletic shoes? Replace generic "sign up for the latest deals" copy with a CTA inviting users to "sign up for the latest deals on men's athletic shoes."
Capture form images. The look of your capture widgets can play a large role in whether visitors take note of your form and subscribe. By tailoring creative to the current page content or known user data, you can increase relevance (and chance of conversion).
Device targeting. Tailoring capture forms to a user's device is critical for delivering a good experience. If your forms force users to squint and scroll around the screen, they're likely to abandon without converting. Make sure your forms are mobile-responsive. If you have a SMS program, you can even target mobile users by asking them instead to opt into your text messaging list.
Multichannel opt-ins. Is a visitor already subscribed to email? Personalize the capture experience by inviting them to subscribe to SMS promotions or browser push notifications. While email is the preferred channel for brand communications, some shoppers may prefer to receive updates on other channels; make sure you can provide the experience they want.
2) Increase Website Conversions using Abandoned Cart Personalization
Online shoppers abandon nearly 70 percent of their shopping carts before making a purchase. With a personalized shopping cart abandonment strategy, online retailers can recover these carts to drive more revenue.
If repeat customers abandon their carts, there's a chance you have their email address from their first purchase. You can use your email marketing automation solution to trigger an email that reminds customers that there are items left in their cart.
To maximize your abandoned cart conversions, personalize these emails to include exactly what's in the cart. Seeing names and images of the items they left behind may more effectively nudge customers to complete their purchase.
But what if you don't have a customer's email address? How can you incentivize these new visitors to convert if you can't send them an email yet?
This is where onsite personalization comes in handy. Triggering a personalized exit-intent lightbox or widget to users who attempt to navigate away from your site may remind them to complete the purchase.
This is especially true if the lightbox displays an offer that aligns with the products in their cart. Finally, if users still aren't ready to convert, you can offer to "save" their cart by sending a personalized email with the items in their cart in exchange for their email address.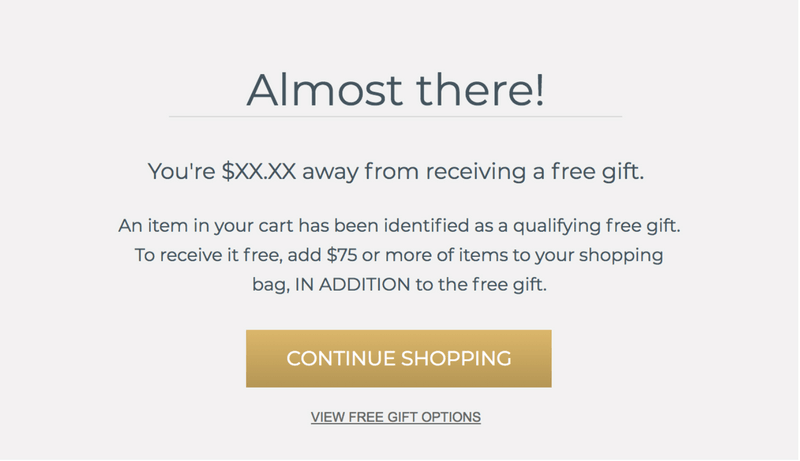 3) Drive Repeat Purchases with Personalized Product Recommendations
You've collected a visitor's email address. You've even converted them into a customer. Now, how do you turn these one-off purchasers into loyal, repeat customers?
By bringing personalization to your product recommendations, you can entice customers to keep engaging with your brand. The more relevant products are to their interests, the more likely they are to find something else they like and make another purchase. For first-time customers, personalized product recommendations can also help you increase your average cart value.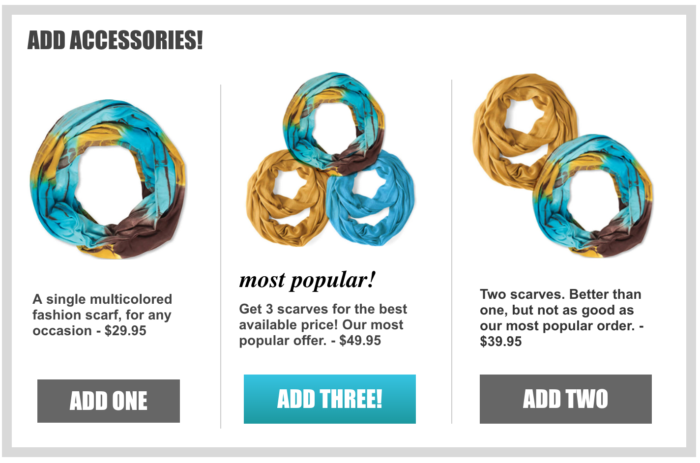 Use your data to deliver a more tailored experience:
Purchase history. If a customer purchases athletic clothes and running shoes, this can indicate an interest in fitness. You can personalize their email and onsite experience by promoting similar apparel for exercise.
Onsite browsing history. Maybe a user hasn't purchased athletic clothes yet, but they've had their eye on a few items. Personalizing their experience with those items, as well as similar products, may nudge them along the path to conversion.
Self-reported data. If you have user data about clothing sizes, tastes, or other categories, put this data to use in your email. With data directly from your customers, you can deliver more relevant product recommendations.
Preference centers. Your preference center allows customers to self-personalize their email content by selecting which communication they receive. With personalized preference centers, you can take this to the next level by recommending additional newsletter based on their browsing or purchase history.
Whether you use this data to personalize recommendations on your site, in your email, or across other channels, more personalized content can lead to a better experience for your customers – and more conversions for your site.
Let's Get Personal!
While personalization was once reserved for the most forward-thinking brands, it's now a necessity for great customer experiences. Customers expect personalization from the e-commerce sites they frequent, and it's up to you to deliver. It takes work and careful planning, but the increased conversions (and happier customers) will be worth it.
Need to chat about your marketing strategy?
More than 10,000 marketers use Maropost to engage with their prospects and customers through emails, SMS, social media and more. We're here to help you growing your business!
Chat Now