One of the keys to successful advertising is to put your ads in front of the right people at the right time. This is your perfect advertising audience. It is important to define the characteristics of this advertising audience before implementing strategies to target them.
In this blog, we will share:
How to decide the attributes of your perfect advertising audience;
Which channels you can use to reach various audiences; and
How to make the best use of your advertising budget.
In a growing industry, it is more expensive, competitive and difficult for businesses to advertise online than ever before. Taking a considered approach to your advertising activities is now necessary, and that starts with targeting specific, pre-defined audiences.
1. Attributes Of Your Perfect Audience
This is likely an exercise you have completed earlier as an online business, but is great to reconsider with your marketing hat on. Think of your perfect advertising audience as a group of people, that:
Are likely to buy your product;
You can afford to reach frequently; and
Are likely to be repeat purchasers.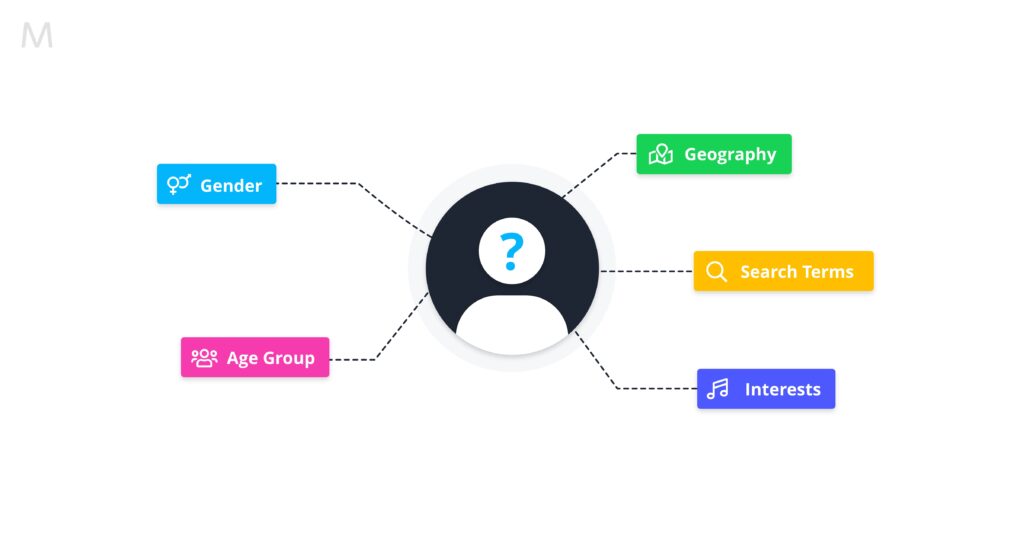 You have to narrow your audience to one that is most likely to buy from you that you can afford to reach frequently enough to build awareness and trust. This audience may be thought of in terms of behavioural and demographic attributes like:
Geography
Gender
Age group
Interests
Search terms
Reflect on who this group is and how their consumer behaviour manifests. How do they shop online, on what channels and what devices? Use this to create targeted advertising campaigns in Google, Bing, Facebook, Instagram, YouTube or other relevant channels.
2. Channels For Perfect Audiences
Lower Funnel
There are digital advertising channels that compliment bottom of the funnel marketing activities and are designed to target a purchase intent based audience.
A purchase intent-based audience refers to people that are actively shopping to buy. If they type a keyword in a search engine or comparison shopping engine, they are showing purchase intent.
Channels to capture intent based audiences are:
Marketplaces, like eBay or Amazon, are great examples of channels attracting intent-based audiences. Sell products to people in market and refine your product market fit. Disadvantages of marketplaces include minimal brand exposure and no true customer acquisition.
Search engines like Google or Bing have shopping programs that tap into purchase intent-based audiences. People type specific keywords in search engines and the channel helps drive traffic website traffic for customer acquisition and brand growth.
Social media platforms like Facebook or Pinterest, as well as Google and Bing, allow you to build remarketing audiences. Collecting data on defined actions, e.g. cart abandonment, can be recorded as an audience that you can advertise to on each channel with remarketing campaigns.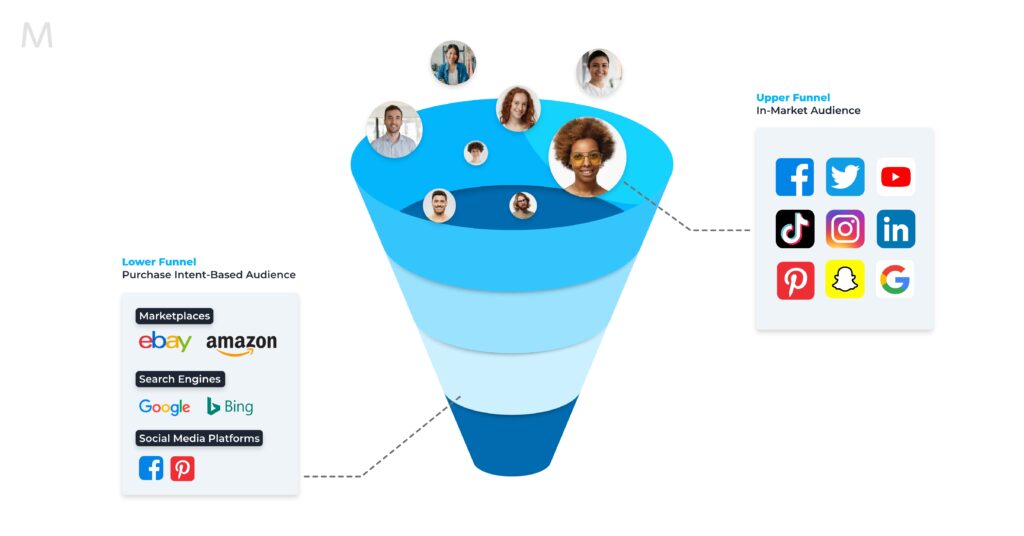 Upper Funnel
There are also digital advertising channels that compliment brand awareness marketing. These top of the funnel marketing activities can target a purchase intent-based audience and/or an in-market audience.
An in-market audience is a group of people that have shown interest in the products you sell but have not yet been to your website. These are the people who are online and actively researching or planning to buy a particular product.
Digital channels capturing in-market audiences and offering display advertising include Google, Facebook, Pinterest, YouTube, Snapchat and more. Deciding on the channel depends on the perfect product audience for your products. How do your customers interact with particular channels? Once you know this, then you can consider where best to allocate your advertising budget.
3. Make Best Use of Your Advertising Budget.
How can you spend your budget strategically? It is best to set short term and achievable objectives that align to your long term goals.
Building trust with your audience is a key objective. To do that you need them to not only discover you, but remember you. This requires frequent advertising.
Begin by narrowing your audience to one you can afford to reach frequently. Advertise smarter not harder to this audience by understanding their buyer behaviour and media consumption.
There are limitless audiences available to you at all times. The question becomes which channels and advertising programs should you unlock first and prioritise budget for?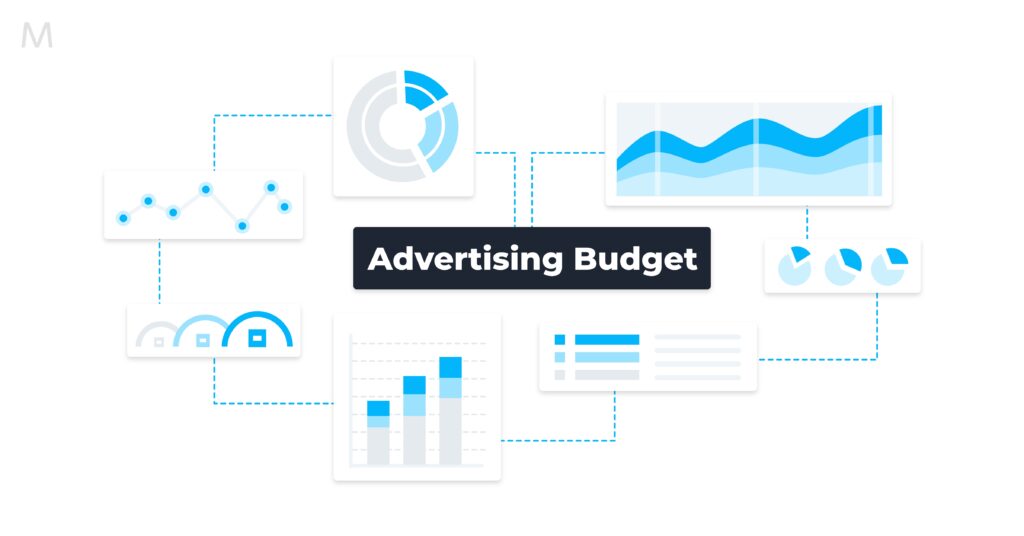 For a new and growing brand we recommend to start with purchase intent – targeting a purchase intent-based audience through:
Google free product listings
Google shopping ads
Microsoft shopping ads
These are all product-based advertising programs that drive traffic to your product pages. Your goal is to show up as often as possible when a prospective customer searches for a product you sell. Your budget should be able to sustain a campaign that achieves your goals that doesn't run out of money part of the way through the day.
Then you can broaden your activities with:
Dynamic remarketing ads
Dynamic search ads
Responsive search ads
At this point brands begin display advertising to target both current and potential customers.
When deciding on what activities to double down on, you should consider the following key metrics:
Revenue (the amount of money that comes in)
ROAS (the return on advertising spend)
Conversions (the number of sales you made)
Impressions (how many times your ads were shown)
Impression share (how often your ads showed vs. your competitors)
Click share (how many clicks you get to your competitor)
ROAS is certainly important but it is just as important to understand your cost of customer acquisition. If you are building your brand, acquiring new customers is key, so lowering your target ROAS could deliver more sales and more new customers.
Make Your Plan
In a competitive market with seemingly limitless audiences it is important to have a plan. How will you utilize your limited advertising budget to drive the best possible results for your business?
Need to chat about your marketing strategy?
More than 10,000 marketers use Maropost to engage with their prospects and customers through emails, SMS, social media and more. We're here to help you grow your business!
Chat Now