Good customer service is essential to long-term success. When you're selling something online, your customers expect you to answer their questions fast.
If they don't get the information they need, you could lose the sale to a competitor. Of course, you can't be available all the time, and this is where chatbots come in.
Chatbots are virtual computer assistants. These AI (artificial intelligence) applications can be installed on your website. When a customer needs assistance, the chatbot will simulate a conversation.
On average, chatbots can answer up to 80% of common questions, and 40% of people don't care if they talk to a chatbot or a live operator if they're getting the right information. By adding a chatbot to your customer communication mix, you could save up to 30% on support costs.
It makes sense to have a chatbot, but they're not all created equally. Even though it's a robot, that doesn't mean it has to act like one.
To give your users a better experience, you can make your chatbots feel real and on-brand. Read on to find out how.
1. Give Your Chatbot a Personality
There's a reason why big brands like Amazon and Apple name their virtual assistants. We know Alexa and Siri aren't real people, but giving them a name personalizes the experience.
You can use the same strategy to make your chatbot more realistic. Start by giving it a name and creating a friendly welcome message. Before you name your chatbot, consider your audience.
The name needs to appeal to your visitors. If you're unsure, why not ask your followers to vote for their favorite name?
The goal is to get users to interact with the chatbot, so a good first impression is essential. Your welcome message should also reflect your business. For example, you can choose formal or informal language depending on your target audience.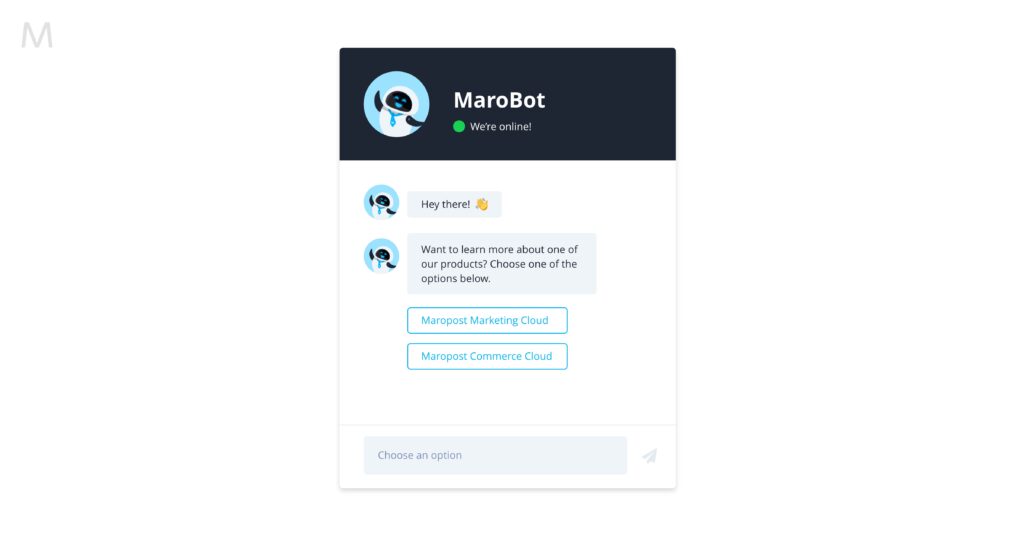 Here's an example of a friendly chatbot welcome message you can use for a fashion ecommerce store:
"Welcome to (store name), I'm (chatbot name). If you need assistance, I'm here to help. I can help you find colors, sizes, and recommend styles."
Your chatbot can introduce a special offer or discount to your customer to tempt them to buy.
Some websites use pictures of their team so that the experience feels more genuine.
Without this deep analysis, you resort to only limited decision-making ability.
While Brands like Amazon and Apple are famous for their AI, there are hundreds of companies experimenting with and investing in artificial intelligence. From healthcare companies to retail giants, everyone is trying to understand what makes customers buy what they buy and how to serve them better.
2. Use a Voice Assistant
Not everyone wants to sit down and type their questions into a chatbot program. If your audience wants the convenience of voice communication, there's a solution available.
You can now get an integrated chatbot with a voice assistant. 45% of Millennials are comfortable using voice assistants online. If you're not offering this service, you could be missing out on sales.
First, you'll need to research your target market. If your customers are Millennials or Gen Z, it's worth investing in this type of technology.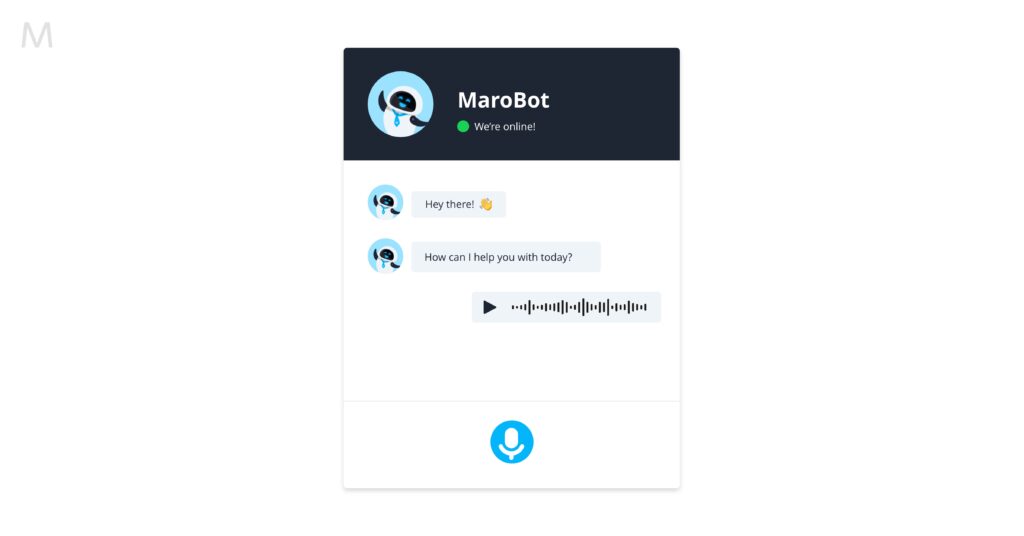 Instead of typing a question, all your users need to do is speak out loud. Your voice assistant will reply with a voice answer.
Make sure your voice assistant has a voice that sounds natural. The goal is to feel like you're talking to a real person rather than a computer.
If you have an international audience, your voice assistant can speak in multiple languages. They can even have an accent.
3. Have Multiple Contact Methods
Your chatbot should be able to easily answer frequently asked questions.
But sometimes, users will still want to speak to a real person. Even with advanced AI, your customers can have complicated queries that require human troubleshooting.
While your chatbot can save you time and money, you shouldn't rely on it as the sole contact method. Don't neglect phone, email, and social media as contact methods.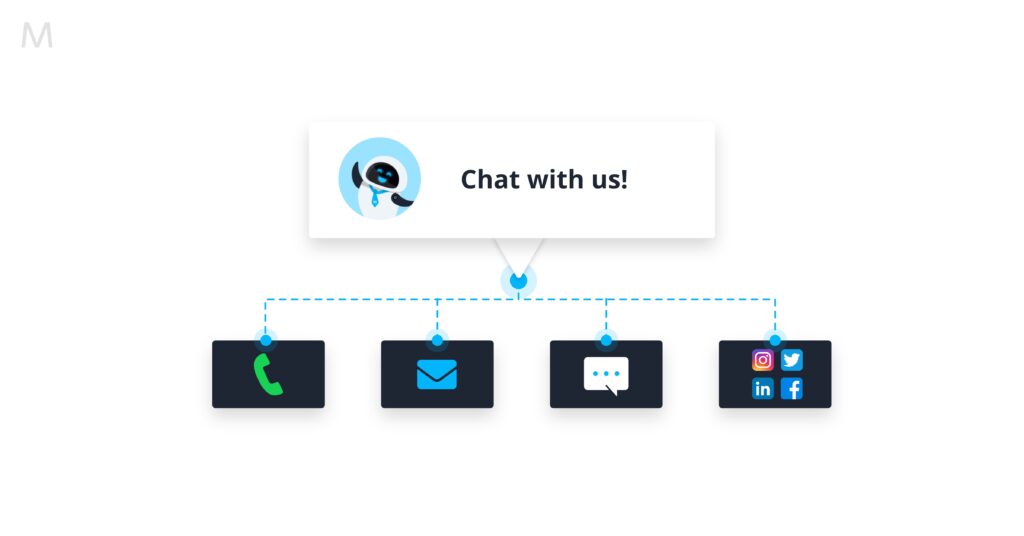 Here's an example from a website called Preply which helps people learn English online. It's common to have a chatbot at the bottom right corner of the screen. In this instance, Preply has multiple contact options.
Those browsing the website can get instant answers using the comprehensive help center. They can also use live help to get a virtual answer or wait a few minutes to talk to a real person.
Knowing a human operator is there if they need it can give visitors the confidence to spend money.
4. Make Your Chatbot Understand Emotions
One thing that sets people apart from AI is emotions. Your chatbot may have knowledge of your products and services, but it can struggle to connect without emotional intelligence.
Chatbots can be modified to respond to human emotions. For example, the chatbot can offer a sympathetic ear if a customer mentions a relationship breakup while shopping for a new car.
For example, "I'm sorry to hear about your breakup. We know you need a new car, and one thing we can do is make the shopping experience easier for you."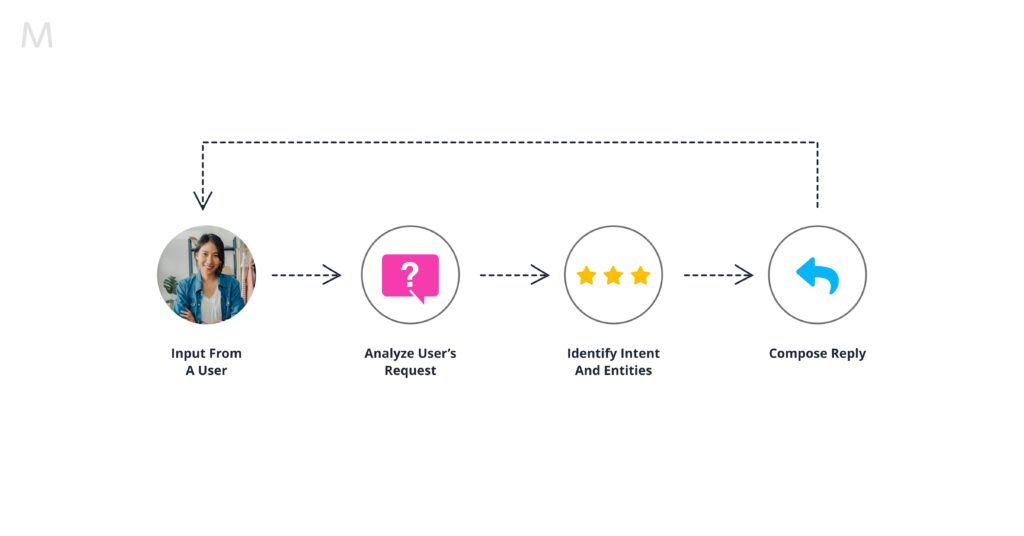 Or, if a customer mentions a birthday or special event, the chatbot can offer a "happy birthday" or a "congratulations." The conversation should flow smoothly and organically.
You can consider using a chatbot with facial recognition depending on your business type. This software can scan faces for emotions and respond appropriately. If a customer is frustrated or angry, the chatbot can try to diffuse the situation.
And, if a customer looks happy, this is a sign that your customer service efforts have been successful.
5. Improve the Language
Your chatbot may need some training to get the language right. If it's an intelligent chatbot, it'll learn over time based on common customer questions.
Your chatbot should sound natural when it replies to users. It should be able to predict what they may ask next and offer suggestions. For example, if your customer is shopping for a gift, the chatbot can suggest an add-on, like gift-wrapping or a greeting card.
This strategy is convenient for the customer and can boost your sales.
Some businesses sell products with technical specifications, and your chatbot needs to be aware of these. For example, the chatbot should bring up megapixels and zoom range if a customer wants to discuss a camera.
Your chatbot also needs to speak your user's language. It should understand local slang and idioms. Customers will communicate with your chatbot like a real assistant, and it should respond accordingly.
Make Your Chatbots Feel Real and On-Brand
Adding a chatbot to your website can increase sales and save you time and money. Your customers will have someone to talk to 24-hours a day, so they can shop at their convenience.
But, some chatbots can be frustrating for visitors. Users are more likely to stay when you make chatbots feel real and on-brand.
How do you do this? Try giving your chatbot a personality and a name to make it sound more life-like. Make your chatbot understand emotions, and ensure that it speaks the language of your target audience.
Don't forget to add a voice assistant and multiple contact methods. If the basic chatbot doesn't give your customers the answer they're looking for, they'll want to talk to a real operator.
With these simple tips, your chatbot will feel (almost) human.
Need to chat about your marketing strategy?
More than 10,000 marketers use Maropost to engage with their prospects and customers through emails, SMS, social media and more. We're here to help you grow your business!
Chat Now